F1 looks set to call off plans to relocate this year's 'young driver test' to Silverstone.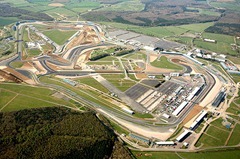 The original plans, with young and up-and-coming drivers able to get some running in November after the Abu Dhabi grand prix, were called into question due to the unusual calendar congestion at the end of the 2012 season. So most teams – with the exception of Red Bull, Toro Rosso and McLaren – organised instead to run their young drivers at Silverstone in July. But according to Germany's Auto Motor und Sport, Bernie Ecclestone has intervened.
The report says the F1 chief executive has informed teams that the Northamptonshire circuit will actually not be available in the week after July's British grand prix. Ecclestone's race contract with Silverstone also gives him control over the circuit in the days immediately before and after the grand prix. "Silverstone and the teams had agreed on the test date without first talking to him (Ecclestone)," said the German publication.
The move – interpreted by some as Ecclestone's favour to Abu Dhabi – could "force all the teams to test in Abu Dhabi", it added. But Ecclestone's move could also backfire, according to Mercedes team boss Ross Brawn. "There was an unanimous agreement that this year there should be a young drivers' test in two different locations," he said. "This agreement is broken. So we are not obliged to go to Abu Dhabi," Brawn insisted. Sauber's Monisha Kaltenborn agreed: "It is quite possible that most of the teams will cancel the test in Abu Dhabi."
Source: GMM, Image: Google Images