Red Bull and Sebastian Vettel have done it again, third practice session of the weekend and the third P1 is making them the likely candidates for pole here at the Marina Bay Street Circuit.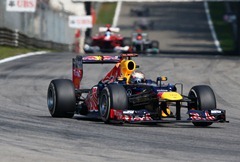 While practice three gets underway the Lotus F1 driver Kimi Raikkonen is the first on the track followed shortly by most drivers while Alonso and Rosberg were the last ones to make the installation lap.
McLaren and Force India showed impressive pace right from the start of the session while Perez had an early incident and retired to the pits with a possible right-rear suspension damage and minutes later Glock remains stopped on track with throttle problems.
The Marina Bay track was slow in the first part of the session despite the rubber accumulated from yesterday and from the GP2 practice and after 30 minutes no driver went below the1:50.000 barrier.
Vettel and Alonso were the firsts to go into the 1:49s while Senna was the first on supersofts meanwhile Webber makes contact with the wall and punctures his right-rear tyre in the same place were Perez went off track.
Last 5 minutes of the session were extremely intense with all cars on track and on supersofts (P Zero Red).
| Pos. | Drivers | Teams | Time | Laps |
| --- | --- | --- | --- | --- |
| 01. | Sebastian Vettel | Red Bull Racing | 1:47.947 | 15 |
| 02. | Lewis Hamilton | Vodafone McLaren Mercedes | 1:48.272 | 15 |
| 03. | Fernando Alonso | Scuderia Ferrari | 1:48.623 | 11 |
| 04. | Nico Hulkenberg | Sahara Force India | 1:48.859 | 16 |
| 05. | Kimi Raikkonen | Lotus F1 | 1:48.865 | 17 |
| 06. | Felipe Massa | Scuderia Ferrari | 1:49.458 | 13 |
| 07. | Paul di Resta | Sahara Force India | 1:49.684 | 15 |
| 08. | Nico Rosberg | Mercedes AMG Petronas | 1:49.699 | 16 |
| 09. | Bruno Senna | Williams F1 | 1:49.715 | 14 |
| 10. | Michael Schumacher | Mercedes AMG Petronas | 1:49.981 | 14 |
| 11. | Mark Webber | Red Bull Racing | 1:50.110 | 12 |
| 12. | Jenson Button | Vodafone McLaren Mercedes | 1:50.524 | 10 |
| 13. | Daniel Ricciardo | Scuderia Toro Rosso | 1:50.664 | 16 |
| 14. | Kamui Kobayashi | Sauber F1 | 1:50.777 | 15 |
| 15. | Romain Grosjean | Lotus F1 | 1:50.840 | 15 |
| 16. | Pastor Maldonado | Williams F1 | 1:51.012 | 15 |
| 17. | Jean Eric Vergne | Scuderia Toro Rosso | 1:51.059 | 17 |
| 18. | Sergio Perez | Sauber F1 | 1:51.272 | 10 |
| 19. | Charles Pic | Marussia F1 | 1:52.290 | 16 |
| 20. | Vitaly Petrov | Caterham F1 Team | 1:53.781 | 12 |
| 21. | Heikki Kovalainen | Caterham F1 Team | 1:54.326 | 14 |
| 22. | Narain Karthikeyan | HRT F1 Team | 1:54.421 | 14 |
| 23. | Timo Glock | Marussia F1 | 1:54.630 | 9 |
| 24. | Pedro de la Rosa | HRT F1 Team | 1:54.875 | 14 |
Find us on Facebook and Twitter for all the latest updates for the F1 2012 season