Great qualifying session here in Singapore with McLaren and Lewis Hamilton stealing the pole from the overconfident Red Bull.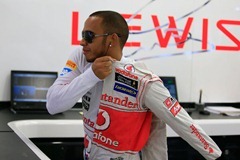 After looking very strong in Italy the Sauber's suffered in Singapore and Kobayashi scored his worse qualifying position this season being kicked out in Q1 and will start the race from P18.
During the Q2 Romain Grosjean made a half-spin and damaged his left-rear tyre after hitting the wall but he was able to continue and will start the race from P8.
Another great qualifying performance from Pastor Maldonado who managed to put his Williams in P2 and is followed by Sebastian Vettel, Jenson Button and Fernando Alonso.
Pos.
Drivers
Teams
Time
Laps
01.
Lewis Hamilton
Vodafone McLaren Mercedes
1:46.362
14
02.
Pastor Maldonado
Williams F1
1:46.804
17
03.
Sebastian Vettel
Red Bull Racing
1:46.905
14
04.
Jenson Button
Vodafone McLaren Mercedes
1:46.939
15
05.
Fernando Alonso
Scuderia Ferrari
1:47.216
14
06.
Paul di Resta
Sahara Force India
1:47.241
18
07.
Mark Webber
Red Bull Racing
1:47.475
17
08.
Romain Grosjean
Lotus F1
1:47.788
16
09.
Michael Schumacher
Mercedes AMG Petronas
1:47.823
14
10.
Nico Rosberg
Mercedes AMG Petronas
1:47.943
13
11.
Nico Hulkenberg
Sahara Force India
1:47.975
12
12.
Kimi Raikkonen
Lotus F1
1:48.261
14
13.
Felipe Massa
Scuderia Ferrari
1:48.344
12
14.
Sergio Perez
Sauber F1
1:48.505
14
15.
Daniel Ricciardo
Scuderia Toro Rosso
1:48.774
13
16.
Jean Eric Vergne
Scuderia Toro Rosso
1:48.849
14
17.
Bruno Senna
Williams F1
no time
10
18.
Kamui Kobayashi
Sauber F1
1:49.933
8
19.
Vitaly Petrov
Caterham F1 Team
1:50.846
6
20.
Heikki Kovalainen
Caterham F1 Team
1:51.137
6
21.
Timo Glock
Marussia F1
1:51.370
8
22.
Charles Pic
Marussia F1
1:51.762
8
23.
Narain Karthikeyan
HRT F1 Team
1:52.372
7
24.
Pedro de la Rosa
HRT F1 Team
1:53.355
7
 
107% Time:
 
1:55.226