Sebastian Vettel wins the exiting Singapore GP after another McLaren failure.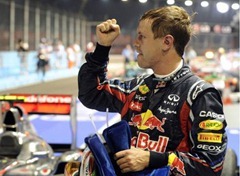 Yet another exiting race started and Lewis was keeping his lead with no problems while Maldonado instantly lost 2 places in first three corners.
Lap 23 is saw the Lewis Hamilton incapable of changing gears and was force to retire.
Two safety car entries on today GP after Narain Karthikeyan hit the wall a just a fe laps later Michael Schumacher drove over the Jean Eric Vergne.
After the safety car retire Sebastian Vettel sailed away to win for the second year in a row here at the Marina Bay circuit followed by Jenson Button and Fernando Alonso.
| Pos. | Drivers | Teams | Time |
| --- | --- | --- | --- |
| 01. | Sebastian Vettel | Red Bull Racing | Winner |
| 02. | Jenson Button | Vodafone McLaren Mercedes | +8.9 secs |
| 03. | Fernando Alonso | Scuderia Ferrari | +15.2 secs |
| 04. | Paul di Resta | Sahara Force India | +19.0 secs |
| 05. | Nico Rosberg | Mercedes AMG Petronas | +34.7 secs |
| 06. | Kimi Raikkonen | Lotus F1 | +35.7 secs |
| 07. | Romain Grosjean | Lotus F1 | +36.6 secs |
| 08. | Felipe Massa | Scuderia Ferrari | +42.8 secs |
| 09. | Daniel Ricciardo | Sauber F1 | +45.8 secs |
| 10. | Mark Webber | Williams F1 | +47.1 secs |
| 11. | Sergio Perez | Sauber F1 | +50.6 secs |
| 12. | Timo Glock | Marussia F1 Team | +91.9 secs |
| 13. | Kamui Kobayashi | Sauber F1 | +97.1 secs |
| 14. | Nico Hulkenberg | Sahara Force India | +99.4 secs |
| 15. | Heikki Kovalainen | Caterham F1 Team | +107.9 secs |
| 16. | Charles Pic | Marussia F1 Team | +132.8 secs |
| 17. | Pedro de la Rosa | HRT F1 Team | +1 Lap |
| 18. | Bruno Senna | Williams F1 | +2 Lap |
| 19. | Vitaly Petrov | Caterham F1 Team | +2 Lap |
| 20. | Jean Eric Vergne | Scuderia Toro Rosso | RET |
| 21. | Michael Schumacher | Mercedes AMG Petronas | RET |
| 22. | Pastor Maldonado | Williams F1 | RET |
| 23. | Narain Karthikeyan | HRT F1 Team | RET |
| 24. | Lewis Hamilton | Vodafone McLaren Mercedes | RET |
| | Fastest Lap: | Nico Hulkenberg | 1:51.033 |