Sergey Sirotkin, set to smash the record next year as the youngest ever F1 racer, has hit back at claims he is a "pay driver".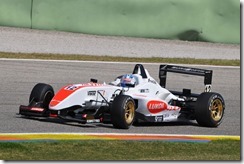 The 17-year-old's father is a key figure among the Russian entities that have bailed out the ailing Sauber. Currently just ninth in the Formula Renault 3.5 series, behind highly rated drivers like the McLaren-backed Kevin Magnussen, and the likely next Toro Rosso driver Antonio Felix da Costa, Sirotkin's fast-track to the grid has earned him the 'pay driver' label.
"That is completely wrong," Sirotkin told Basler Zeitung newspaper. "There is much more to it. We are talking about a big project, where another driver could have been selected. "It's not an investment in me, it's about the big picture," he insisted. "It's not that I'm going to drive in F1 for fun, I have been selected because of my performance. I want people to respect what I do. "It's about the promotion of formula one in Russia. And it's also quite normal that the driver also brings a sponsor, just as Fernando Alonso brings Santander bank to Ferrari," added Sirotkin.
But some of the criticism of Sirotkin's 2014 move to Sauber is also because of his age — currently, he is still just 17, too young to apply for a road drivers' license in Russia. Asked if he is arguably too young for F1, he admitted: "Yes, that's right. It may be that I'm not 100 per cent ready, but I still have half a year to prepare. "That should be enough," Sirotkin added. "Maybe our results in the World Series are insufficient, but you can still see that we have the speed. We just need a little bit more luck in the races."
One of those questioning Sirotkin's preparedness for F1 is Jenson Button, who in the past has admitted that, at 20, he himself made his debut too early. "I began racing at 8," the Briton is quoted by Russia's Championat, "but even at twenty, realistically speaking, it was too early. "I had to learn about the sport from the inside. "On the one hand, it's good, but on the other hand, you can't hide. "I think another year in the junior categories would have helped me come to formula one much more prepared," added Button. "I was not ready at 17. Maybe he is, I don't know, but he needs to be careful. Formula one is a tough business."
Info: GMM, Image: Sauber F1 Team