There were two sides to qualifying for Scuderia Ferrari, as Fernando Alonso was third fastest, while Felipe Massa ended Q2 only in seventeenth place.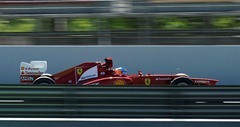 The Spanish driver's position is the best result since Saturday at Silverstone in 2011. Both drivers were on identical tyre usage programmes during the first two parts of the session: one set of Hard and then one of Soft in Q1, then one used and one new set of Soft in Q2.
This meant for the first time this year, Fernando was finally able to tackle Q3 on a level footing with the others and will now start second following Lewis Hamilton penalty.
Stefano Domenicali: "The session was very closely contested and packed with surprises. Finally this year, we managed to get to Q3 in a condition that meant we could show our worth, at least with one of the drivers. Fernando did a fantastic job from the first to the final lap of the session, constantly improving and, once again, getting all the potential out of the car. Felipe fought hard, but on his lap with new Soft tyres in Q2, he had a lot of traffic and lost a few tenths that would have brought him close to tenth place. We had a lot of new parts on the F2012 and the aim was to make up at least part of the gap to the best in terms of pure performance. We have made a step forward, this is a fact. Tomorrow's race seems very hard to predict and tyre performance will make the difference. The weather could also play an important role, given we have already seen that a few degrees more or less can change the cards on the table."
Fernando Alonso: "This third place is not what we had expected. We were counting on making a step forward that would
allow us to get into Q3 with less difficulty than in the first races of the season and we managed it. But we certainly did not
think we could be so high up the grid. I don't know if this position is a true reflection of our car's performance  – it's definitely not normal for a Red Bull and a McLaren to be eliminated in Q2 and that the other Red Bull gets into Q3 with no
sets of new Soft tyre available – but what is certain is that the new parts we have brought here have resulted in us taking a step in the right direction: sure, it's not yet enough to fight for the very top places. It's a good basis to start from for this
weekend, but the points come tomorrow. We will try and get a good start, especially as some of my main opponents in the title fight start behind us and we must try and make the most of that. Tyre performance will be a critical factor: we will have to be careful, because the forecast is for different temperatures to today and that could throw up some surprises. Racing in front of this amazing crowd always gives me some extra motivation!"
Felipe Massa: "When qualifying is as close as this, it is vital to manage to have everything fall into place on a clean lap and I never got that chance. On my second run in Q2, I came across at least seven or eight cars that were preparing their tyres for their timed lap and the time I lost definitely cost me dear. It's a real shame to start seventeenth in a race in which our car has shown it has made a step forward in terms of performance, as could be seen from Fernando's result. The new aerodynamic parts which we introduced on the F2012 seem to have worked well – we have a bit more aerodynamic downforce and a bit less drag – but we are well aware that there is still a lot to do. Tomorrow, on a track as hard as this one on the tyres, strategy will be crucial: let's hope I can make it into the points."
Pat Fry:  "A good result with Fernando, who managed to qualify third, the best performance of the season. A shame for
Felipe, who suffered because of traffic on his quick lap in Q2: right now, I cannot say if he would have made the cut out of
Q2, but it definitely cost him some places. We brought various updates here, especially aerodynamic ones: some worked well, meeting our expectations, others less so: looking at this afternoon's result we can say we have made a step forward, but it's clear that there is still a lot of  work to do to always be at the same level as the best. However, third place is a confidence boost and it is down to everyone who, these past weeks, back home and at the track, has worked hard to reach this objective. Now we must confirm this progress in the race as well. The forecast is for slightly lower temperatures tomorrow and that could have an effect on tyre behaviour. We have seen various choices in terms of tyre management: now we will see who made the right choice."
Info & Image: Ferrari