Pastor Maldonado claimed his first front row grid position today in qualifying for tomorrow's Spanish GP.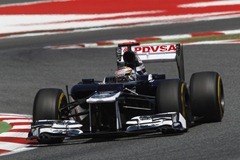 After topping the times in Q2, Pastor drove a great lap on soft tyres to post a time of 1:22.285 putting him second overall behind Hamilton's McLaren and following the investigation made by the stewards that led to Lewis being disqualified, the Williams driver obtained his first Pole Position in Formula 1.
After being hampered by traffic on earlier runs a frustrated Bruno Senna ended Q1 in the gravel and will therefore start 18th in tomorrow's race but with extra sets of tyres available.
Mark Gillan, Chief Operations Engineer: "Pastor's qualifying performance was stunning today with a collection of very strong laps throughout the session which allowed us to save a set of soft tyres to fight for a decent qualifying position in Q3. To finish P2 is a great boost for the whole team and gives us a very good position from which to push hard in the race for decent points and hopefully a further belated 70th birthday present for Frank."
It is obviously disappointing for Bruno to have crashed out of Q1 but we expect the race pace to be strong so points are still possible from P18.
Pastor Maldonado: "We have been working so hard all year to understand these tyres and with the updates we have brought to this race we have made a very good step forward. The car is very consistent and its race pace is good so I am really looking forward to the race tomorrow. There has been a really positive atmosphere in the team all season and this is a great result for them and Venezuela."
Bruno Senna: "It was a disappointing qualifying for me and I had back luck with traffic when on the soft tyre. I have a lot of work to do tomorrow if I want to score any points but I have had good races from the back before and our car is looking competitive this weekend."
Info & Image: Williams F1 / LAT