Kimi Räikkönen and Romain Grosjean ensured that Lotus F1 Team were the strongest points scoring team in a fast-paced Spanish Grand Prix.
Kimi and Romain finished in third and fourth position respectively to move the team within 14 points of second place in the F1 Constructors' Championship.
Both cars started on used sets of yellow-marked soft Pirelli P-Zero tyres. Romain changed to a set of used softs on lap 10, then made two further stops for new silver-marked hard tyres on laps 26 and 51. Kimi pitted for a set of used softs on lap 11, then fresh sets of hards on laps 27 and 48.
Kimi Räikkönen: "I had a very good start and had a chance to overtake on the outside, but we did not have enough speed and I hit the limiter in fifth gear. I am a bit disappointed because if everything had gone right in the first part of the race, we could have won. There was no issue with the speed of the car, but it is so close between all the teams that if you have a small problem or a small issue it can cost so much. Our car can do it, but everything has to fall into the right place to be able to get on to the top step. My first stint was okay, but I didn't have the speed to stay with the cars in front. We changed the tyres and it seemed to be pretty good, but we were too far away. At the end we needed a few more laps and we could have fought for the win. We're not far away from it and so far we've made good steps forwards; the car feels strong everywhere."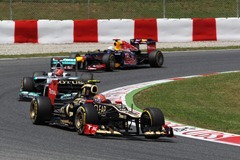 Romain Grosjean: "We lost position at the start and with it a bit of front wing too! It was cooler today which didn't suit us so much. Despite this, I am very happy with P4 especially when you look at yesterday where I missed all of the final practice session. Both cars finishing strongly in the points is great for the team. It was pretty difficult for me at the start of the race as it was hard to get the front working properly with the wing damaged, but we made some changes and at the end of the race the car was really flying. I think we made the right decisions today; if you told us we could finish third and fourth at the beginning of the weekend we'd have taken it."
Eric Boullier, Team Principal: "It's a very strong result and it's a great reward for the team today. I think we can expect a stronger season than we had last year and we need to carry on scoring points as we have in the last two races. I'm sure a win could arrive at some point this season. After qualifying you build expectations, and we could have expected after the strong race pace we had in Bahrain that we could have done the same here, but it was not the case. A race incident at the start didn't help Romain, but the pace of both drivers at the end of the race illustrated our potential. Finally, we must say congratulations to the Williams team for their win, and we hope no-one was seriously hurt in the post-race incident in their pits."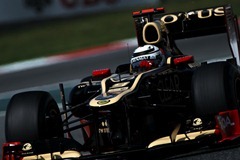 Alan Permane, Director of Trackside Operations: "Third and fourth is a really good result for the team and it meant a big points haul here – more than any other team this weekend – which helps us to close up hugely on second place in the standings. Of course, it would have been nice to have done better, but the key to a strong championship campaign is consistency and if we can finish third and fourth in every race this season we'll be very happy. We didn't have the pace to win today, that much was clear after the first stints. We tried to push our stints out and be quick at the end. We were, and it nearly paid off."
Ricardo Penteado, Renault Sport F1 Team Support Leader: "It was a great race with another podium and fourth position to move us a lot closer to second in the championship. We introduced new engines after Friday practice and it went well. We managed the fuel consumption effectively on both cars in the race, but in Romain's we had some engine air consumption in the middle stint. Congratulations to Pastor and our Renault colleagues working at Williams today – a well deserved win."
Info & Images: Lotus F1 Team