Red Bull are unsurprisingly disappointed with their performance today.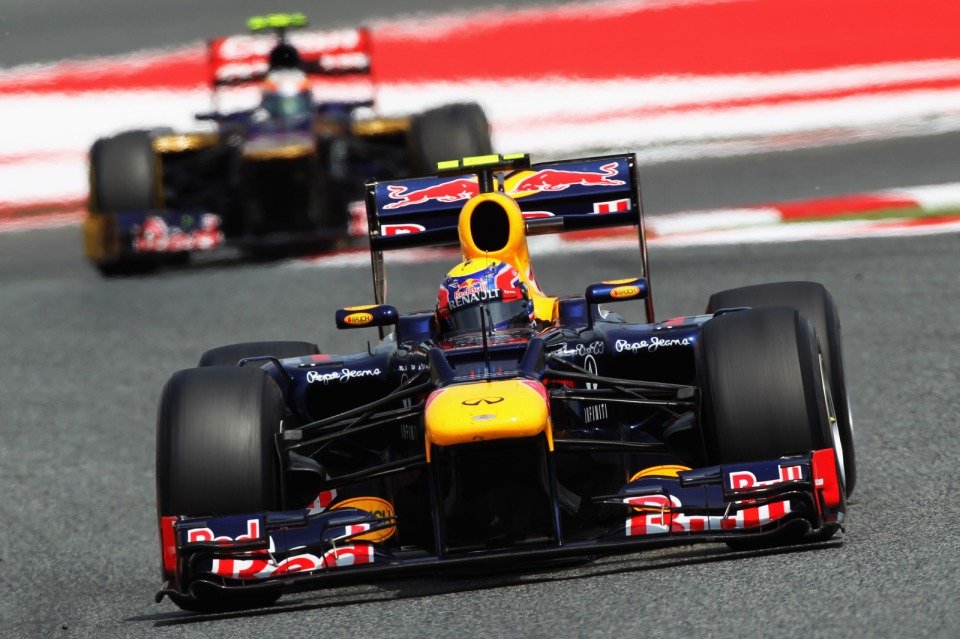 It was an afternoon filled with problems. Sebastian Vettel had a drive through for speeding under a yellow flag, and both drivers had to change their front wing.
Sebastian did manage to had a quick surge in pace towards the end however, and he managed to overtake both McLaren drivers and Rosberg very quickly.
Vettel is now level on points with Fernando Alonso at the top of the table, while Mark Webber is behind in fifth.
Sebastian Vettel: "It was difficult race and a hard day in the office. I'm not entirely happy, we could have finished maybe one position higher up, but we had a good recovery in the end. We were definitely stronger towards the end of the race and it was good fun, but when it's up and down and up and down, it's quite difficult. I don't know what the problem was when we had to change the nose of the car; I wasn't sure if I had damage or something stuck at the front – maybe a piece of rubber or something. I tried another lap, but it wasn't the right thing to do, so we decided to come in and change the nose to make sure. It lost us some time, but it was the right thing, as I was told there was some damage to the front left of the wing."
Mark Webber: "It was an interesting race and a difficult first lap. I don't know where I got damage to my front wing, but I had to pit for a new nose. I lost a lot of time with that – and on the few laps before when it started playing up. We had to pit and when you're out of position here it's tough – you have to look after your tyres and when you catch people your tyres get killed, so it's chicken and egg. If you push past them, you have to pit earlier and commit to another stop. It was a mystery with the pace; I was stuck behind Force India, you see the McLarens weren't doing so much and Seb was just chipping away."
Christian Horner: "A difficult afternoon. Unfortunately Sebastian had a drive-through penalty for an incident under a yellow flag, which I believe is because he had the DRS open. We also had front wing damage on both cars that necessitated two nose changes. Despite that, it was a strong recovery from Sebastian to finish sixth, passing two McLarens and Rosberg in the closing stages and, as a result, we leave here still leading both the Drivers' and Constructors' World Championships. For Mark it was a tough race with the wing change early on and then unfortunately a mystifying lack of pace, which resulted in him spending a lot of the race looking at the back of Nico Hulkenberg's car. So, there is plenty to understand; we have done five races now and had five winners from five different teams. Congratulations to Pastor Maldonado, but especially to Sir Frank and the Williams Team on a well deserved victory today."
Info and Images: Red Bull Racing