While a creeping tension between the Mercedes teammates is obvious, Mercedes is playing down any conflict between new championship leader Lewis Hamilton and the Brackley based team.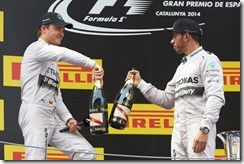 En route to his fourth consecutive race win on Sunday, Hamilton denied when asked by podium interviewer Eddie Jordan if his grumbling in-race radio messages showed he was "upset" with Mercedes during the Spanish grand prix. And team boss Toto Wolff insisted: "Lewis has a very good relationship with his engineers. Intensity is good, as long as it is not overdone," he is quoted by Germany's Auto Motor und Sport. "I don't think you can blame any driver for reacting emotionally. We know Lewis," Wolff said. "He comes across on the radio sometimes totally differently to how he actually is."
Wolff said Hamilton's mood during the race was more a reflection of the desire felt by the Briton and his teammate Nico Rosberg to respectively snatch and retain the championship lead. He even admitted the pair play "little games" throughout a grand prix weekend "to try to lead each others' weekend astray". "As long as the big picture does not suffer," said Wolff, "that's fine. It's normal. "The intensity between them is already high, but you could not expect otherwise," he added. "Both of them know they have the tools to be world champion this year. "I assume that the intensity will even get higher."
So as Mercedes streaks ahead in 2014, the excitement of the 2014 championship rests heavily on the team maintaining its current 'no team orders' approach. "My strategy is very simple," team chairman Niki Lauda said after the Spanish grand prix, where Rosberg came within a lap of beginning a Bahrain-like assault on the sister silver car. "We do not interfere," the F1 legend added. "We let our drivers race from beginning to the end. So far nothing bad has happened. "If there is no third driver in championship contention then I'm completely relaxed," said Lauda.
Also easing Lauda's nerves is his belief that Hamilton is on such top form that no rival – not even Rosberg in an identical car – is likely to topple him in 2014. "I do not know anybody today who could beat Lewis in the same car," he said. "Nobody can beat the guy." Mercedes' rivals, however, are holding out hope that Mercedes' approach may eventually bite the Brackley team. "We can only hope that there is a war at the top and they drive into one another," Red Bull's Dr Helmut Marko admitted to Bild newspaper.
Already, there are rumours that top rivals like Ferrari are planning to give improving their cars one final effort before turning their attention to 2015. Red Bull's Christian Horner said on Sunday: "We have a choice — either pack up and go home or we fight." For now, the answer is 'fight', but a biting realism is also obvious. "The gap this year to Mercedes is amazing," admitted Ferrari's Fernando Alonso, after just escaping a lapping in Spain, one year after his last grand prix win. "We need to target second place in the championship if we can," added the Spaniard. "Mercedes is in a different category," Alonso explained, admitting that it is "possible" Hamilton and Rosberg will win every single race this season. Horner also said it is possible Mercedes will manage the unprecedented feat of winning 100 per cent of the races on the calendar, but he insists Red Bull is not preparing to down tools. "What you learn this year, helps you next year," he said. "We will be developing at full throttle all the way to Abu Dhabi."