Gunther Steiner has denied rumours that a rift with team owner Gene Haas is endangering the entire F1 project.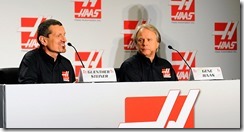 The rumours in the Italian press hinted that arguments between team boss Steiner, and founder and owner Haas, including over the possible signing of Danica Patrick, could result in Steiner's departure. And given that former Jaguar and Red Bull chief Steiner was at the centre of the team entry negotiations with Bernie Ecclestone and the FIA, his exit at this early stage might have serious implications for the entire 2016 project. "I want to say that there is no break with Gene," Steiner, a German-speaking Italian, is quoted by Italy's Omnicorse. "The plans of the team are in continuous development according to the timeframes that we have. "These things (rumours) can create problems for us in the negotiations that we are having," he warned.
Among the rumours was that talks with Ferrari about the supply of the power unit, transmission and other technology had stalled, but Steiner denied that. "It (the negotiations) have never stopped. There has been no signing of contracts, but things are proceeding and they have their time," said Steiner. The talks with Ferrari were said to be crucial, given the Italian marque's eagerness to have an American satellite team, potentially with Ferrari staff actually working in the Haas factories.
But Steiner insisted: "The Ferrari engineers are in Maranello, while we will build our team with our people. "But it still is not the time to deal with these aspects, as we are working solidly on other priorities. We have achieved the entry for the F1 world championship and now we're going ahead," he said.
F1 business journalist Christian Sylt on Sunday wrote in the Telegraph newspaper that Team Haas will have about 200-250 staff. Haas confirmed to the Daily Mail this week that a small management structure with a limited budget is the target. "I don't see how you manage 500 people to run a race team. That just seems like too many," he said. "So we're going to go with something where Guenther knows everything. He has to be able to talk to every person every day, so if you have 500 people you get nowhere."
Image: Fox Sports