Williams development driver Susie Wolff dedicated a 'special' first Formula 1 test to injured Marussia test driver Maria de Villota.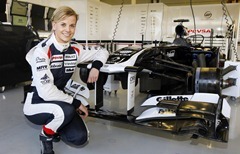 The Spaniard suffered a life-threatening testing accident in July, sustaining significant damage to her skull and losing her right eye. Wolff admitted the accident had been on her mind during her first day, saying it added an extra compulsion for her to succeed.
"After the publicity surrounding Maria's accident, without doubt I felt an extra need to go out there, do a good job and show that her accident was a freak one-off and it doesn't generalize women in motorsport," Wolff said.

"I spoke with Maria after her press conference, when she showed everyone that aside from being a great racing driver she is an exceptional lady. The strength and dignity she showed after such an accident, to fight back from nearly dying, was quite phenomenal and I said that to her.

"She said, 'It's up to you now to show that we can do it – you're driving for both of us,' and today I had her in my thoughts, and had her star on my helmet.

"It was very important for me to go out for both of us today and show everybody that what happened was a freak accident and that actually women can drive F1 cars successfully. She was without a doubt without me."
While there have been instances of women testing in F1 recently, Lella Lombardi remains the last female to start a grand prix back in 1976. Wolff believes her test acts as proof that women can succeed if given the chance.
"I think today was a good first step in the right direction," she said. "I hope I have done enough in the first stage to show the team I can be of assistance to do more tests and aerodynamic work.

"I was conscious of the fact if I wanted more opportunities I had to do well, and that was my main point of concentration. Williams is the first team to really take note of a fast female driver and give her a chance and I hope it will set the path for more teams realizing in the future that women should be taken seriously."

Asked if she felt able to cope physically, Wolff replied: "Yes. It's easy to say as I didn't do a race distance and wasn't on the correct tires, but there was never one part of the whole day when I couldn't hold my head up or be in control of the car.

"I've waited a long time for this day, I've dreamed about this day for a long time, and the first lap was something special."
Info: Racer.com, Image: Williams F1 Team /  LAT Photographic
Find us on Facebook and Twitter for all the latest updates for the F1 2012 season