Adrian Sutil said leading the Australian Grand Prix and finishing seventh "couldn't be a better start" to his second stint in Formula 1.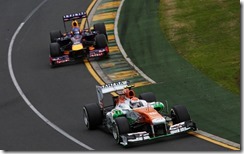 Having been dropped for 2012 in the wake of being found guilty of grievous bodily harm, Sutil returned to Force India during the final pre-season test in Barcelona earlier this month. He showed no sign of rustiness as he led the race on two occasions and eventually finished seventh to just beat team-mate Paul di Resta and Sutil said he was delighted with his comeback race.
"Leading the grand prix was a great feeling, absolutely," Sutil said. "First race three weeks after I knew I was back in Formula One, just had three test days in Barcelona, it couldn't be a better start really. It showed that everything is possible and you just have to believe in it."
Having switched to super soft tyres late in the race, Sutil was able to weather a period of graining to hold on to seventh but he admitted he feared he would have to pit for a third time.
"I knew it was probably a little advantage to start on the medium tyre compared to the other ones – they grained up the tyres in qualifying already – so I was expecting to go in front but of course leading the race I didn't expect, it's even better that it happened.
"In the end the super soft was very difficult; two laps was OK and then they fell off by about five seconds where I lost my positions and then I thought 'I'm never going to end this race on these tyres!' But then it came back and to a reasonable pace actually."
Info: ESPNF1, Image: Force India