Amid suggestions Red Bull is preparing a 2014 contract for Daniel Ricciardo, Kimi Raikkonen's manager insists the Finn is still in the running.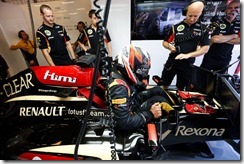 "The facts, or what I can tell you, is that an agreement has not been reached at this time. "Negotiations and discussions are still underway," manager Steve Robertson, who reportedly had a meeting with Lotus' Eric Boullier in Hungary on Friday, told the Finnish broadcaster MTV3. He added: "I can't tell you much about the details, but things are still open. I hope the situation will be resolved in the not very distant future."
Asked, however, if the pendulum has swung away from Red Bull and towards a new Lotus deal for the 2007 world champion, Robertson insisted: "You put me in a difficult situation, because I can't say any more than I have already." At the very least, he denied speculation Raikkonen could simply choose the option that compels him to do the least PR and media duties. "It's useless to deny that public relations work is not on Kimi's list of his favourite things. "But it's never even been on the agenda in any of the negotiations," Robertson told Turun Sanomat newspaper.
At the same time, pushing hard to stay at Lotus next year is Raikkonen's current teammate, Frenchman Romain Grosjean. "We have a common desire," Grosjean told RMC Sport, "to succeed together in the future. "I know, and the team knows, that if the performance is right, there is no reason to change."
Asked if he wouldn't mind if Raikkonen moved to Red Bull and he became Lotus' new 'number 1' driver, Romain answered: "We all want to be the number 1. "But with us (at Lotus), there's never really been an order between Kimi and I anyway."
Info: GMM, Image: Lotus F1 Team