The 2013 title could be all but decided within the next three races, according to O Estado de S.Paulo correspondent Livio Oricchio.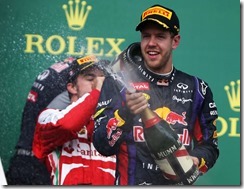 He said most teams will make a decision after Silverstone, the Nurburgring and Hungary about whether to switch off development of the 2013 car or push ahead for better results after the August factory shutdown period. "I think many people will then move their focus to the championship of next year," Ferrari team boss Stefano Domenicali is quoted as saying.
Mercedes' Niki Lauda doesn't agree. "Among the big teams, everyone will keep trying to make their cars faster until the end of the championship," said the German squad's chairman.
Lauda said it is simplistic to say the title will be over by August, although he concedes: "If Sebastian (Vettel) can make his lead even bigger, it will be very difficult to stop him being a four times straight world champion."
Surely, then, some teams will be tempted to turn off the 2013 resources and focus everything on the radical new 2014 formula? After all, with the new engines, energy-recovery systems, aerodynamic changes and cars that will look and sound markedly different, the possibility that big gaps will open up on the 2014 grid is very likely. "Yes," agreed Mercedes team boss Ross Brawn, "we are facing several major engineering challenges and someone is likely to find solutions that are more efficient. "I hope it's us," said the Briton.
Sauber's engineering chief Giampaolo Dall'ara agrees: "Now, with the stability of the regulations, when someone comes up with something novel, it's not so difficult for everyone to copy it. "But next year, incorporating the winning solutions discovered by the others will probably necessitate a car redesign, which will mean waiting for the following season."
Red Bull designer Adrian Newey added: "We could see one team dominating the (2014) championship." Even the FIA's deputy race director Herbie Blash concedes that 2014 might not stage the closest on-track battle. "Whenever there is a conceptual review of the technical regulations, as we will have next year," he said, "the first year is not so competitive."
Info: GMM, Image: Red Bull Content Pool