Jean Todt has admitted some F1 teams are in danger of bowing out.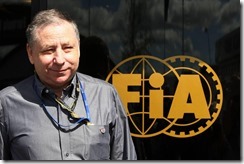 Despite the impressively rejuvenated Red Bull Ring, an air of slight melancholy has gripped the F1 paddock. Television ratings are down, the new battery-powered 'green' era and Bernie Ecclestone's apparent aversion to social media is being debated, and seemingly desperate measures like artificial noise, sparks and standing re-starts are being seriously considered. Against all that, the powerful teams look to have won their latest battle against F1's struggling minnows — the race to drive down the sport's huge costs.
The F1 Commission met in London last week, but – having already dispensed with the budget cap – almost every single cost-reducing counter-proposal was also rejected. "I don't think we have achieved any measurable cost cutting so far," said Monisha Kaltenborn, boss and co-owner of the struggling Swiss team Sauber. "I really wonder what the FIA is now going to do and how formula one is going to be governed in this respect," she added. If that sounds like a thinly-veiled attack on president Todt's leadership style, the former Ferrari boss and Frenchman admits he is also frustrated. "Some racing teams are becoming resistant to changes," he is quoted by Austria's Salzburger Nachrichten newspaper.
Many insiders have contrasted Todt's FIA presidential technique with that of his predecessor Max Mosley, who was more inclined to banging heads and provocatively forcing initiatives. Todt admits the "resistant" teams have pushed against his desire for "a constructive solution that everyone can live with". "I admit," said the softly-spoken 68-year-old, "these calls (for cost reduction) have been tougher than expected. "I am aware that there will never be complete agreement," added Todt, "so I strive for the best possible compromise." It seems the eventual outcome, however, is already known — no huge cost-cutting initiatives, but a trimming of the fat with things like non-European testing and further reduced wind tunnel time. "It may be that some teams do not survive," Todt continued to the Austrian newspaper. "We have seen this situation often. "But I am convinced that the present formula one is more stable than in recent years. And, yes, we want new teams in formula one."
Mercifully, two are at the ready — Gene Haas' American outfit, and a Romanian camp run by the former HRT chief Colin Kolles. "The new US team will come in 2016," Todt confirmed. "Also Forza Rossa of Colin Kolles (could enter)," he added, "if it meets the requirements, but currently they do not have a license."
Image: f1enestadopuro.com