The F1 world got a surprise this week when Toro Rosso announced Daniil Kvyat, a Russian teenager, as Daniel Ricciardo's 2014 successor.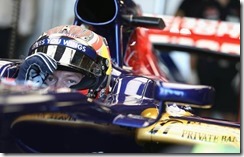 We reported on Monday that, although Antonio Felix da Costa has been the obvious favourite for the seat, fellow Red Bull junior Kvyat had jumped to the front of the queue thanks to 'a group of Russian sponsors'. Italy's Italiaracing said one of them is SMP, a Russian group. Earlier, Toro Rosso team boss Franz Tost had said Rome-based Kvyat, who is the first driver to leap straight to F1 from GP3, was too young for 2014. "I think usually formula one drivers should be at least 20 or 21," he had said.
But now, Tost insists Kvyat is "very talented", having "impressed" the Faenza based team with his F1 test at Silverstone this year. Portuguese da Costa, meanwhile, wrote on Twitter that Red Bull's decision "hurts", but insisted "it's not over". The 22-year-old has also struggled at times in the Formula Renault 3.5 series this year, while Dr Helmut Marko insists Kvyat has flourished in his development.
Russian Kvyat remains in contention for this year's GP3 title, and Red Bull's Marko said on Austrian Servus TV he has also thrived in F3. "Whatever we have put him in, he has performed right off the bat," Marko said late on Monday. Marko denied that, unlike Sauber's Russian teen Sergey Sirotkin, the fact Russia will host its inaugural grand prix next year has had a direct influence on the choice. "What he showed in the (F1) testing was remarkable," Marko insisted. "If a young driver shows the talent, the passion and a strong work ethic, we give him a chance." And the correspondent for the German newspaper Bild, Frank Schneider, added: "It is quite possible Toro Rosso will also get a new sponsor or two."
Info: GMM, Image: Toro Rosso