Toto Wolff on Wednesday hit out at F1's 'opportunists' who initially blocked Pirelli's intended tyre changes.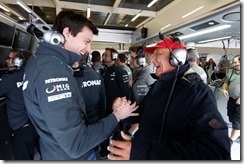 Actually, Pirelli has never admitted its 2013 tyres are not safe, which is the technicality that left the door open for Ferrari, Lotus and Force India to simply say 'no' to the new kevlar-belted structure. "I don't think you can expect any tyre supplier in the world to say their tyres are not safe," Mercedes director Toto Wolff said on Wednesday.
The tyre-exploding British grand prix, however, has forced the issue, moving the FIA to green-light the kevlar change, even though it breaches the earlier need for unanimity. Wolff suggested the resisting teams should never have blocked the move. "Sometimes it takes dramatic events for everyone to pull together. In this case, there can be no more opportunistic seeking of advantage," he is quoted by SID news agency.
It might be argued, however, that Mercedes is only so open about changing the tyres because it has struggled so much with durability on this year's heavily-degrading Pirelli tyres. Wolff insisted: "Safety is priority number one." He added that it is a "relief" new tyres are being debuted at the Nurburgring, but Mercedes driver Lewis Hamilton – so critical after Silverstone, where he had a failure whilst leading – is less convinced. "It's still a concern," said the 2008 world champion. "We'll see how the weekend goes but I'm sure they've taken the right steps to make it safe."
Meanwhile, having readily accepted its banning from the forthcoming 'young driver test' over test-gate, it might be suggested that Mercedes' penalty just became much harsher. Due to the Silverstone tyre chaos, that test has now been opened up to race drivers — but Mercedes remains banned. "We have accepted that we are not going (to test)," Wolff said. "If, like our test (at Barcelona), it is blind tyre testing, then it should go ahead."
Info: GMM, Image: Daimler Media