Mercedes director and team co-owner Toto Wolff is refusing to say he is worried about potential penalties as a result of the secret Pirelli tyre test.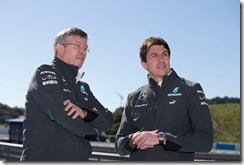 Although Jenson Button said he senses a "slapped wrist" might be the outcome, Red Bull's Dr Helmut Marko likened the affair to 'spygate', where McLaren was excluded from the constructors' championship in 2007 and fined $100m. "I think it's not up to us to talk about sanctions or to express concerns," Wolff told DPA news agency. "It will be a controlled process, and we respect the authority of the FIA. Everything is run very professionally and transparently, and so I have great confidence in the process," he added.
Red Bull and Ferrari were the only teams to formally protest the Mercedes test, but it is believed most other rival bosses have a similar view. "They all say 'We're behind you'," said a cynical Christian Horner. "Just four miles back." But Eric Boullier, boss of the Lotus team, said he is concerned that notwithstanding Pirelli's contract with the FIA, Mercedes broke the sporting regulations. "There is a sporting regulation in place, there is even a testing agreement in place between the teams," he is quoted by the Sun newspaper.
Marussia's Graeme Lowdon agreed: "My understanding is we're not allowed to test in season and from what I understand, that was an in-season test. "I'm sure it will be investigated with the vigour required." Mika Salo, a former Ferrari and Sauber driver and an occasional FIA steward, thinks teams are angry because of the 'secret' nature of the Barcelona test. "Paul Hembery did hours of press conferences on Thursday and Friday and he didn't mention the test — actually he complained that developing tyres is so difficult for Pirelli because there is no testing,"
Salo told the Finnish broadcaster MTV3. "He forgot to mention that he had just done three days with Mercedes." Gerhard Berger thinks both Pirelli and Mercedes are to blame. "I would not excuse Pirelli," he told Servus TV. "But if Pirelli has failed to clarify something, it is up to Mercedes to really make sure it was clarified."
There is now speculation the 'secret test' affair could cost Pirelli its place in formula one. Red Bull's Christian Horner is quoted by EFE news agency: "They are a competent company. "Yes, they have pushed the boundaries with its products a little, but the problem is not Pirelli, but the way all of this has happened, the lack of transparency."
Info: GMM, Image: Mercedes