There is an angry 'T-word' on everybody's lips after Sunday's puzzling and painful Spanish grand prix.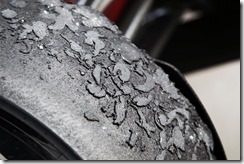 "Can anyone tell me what's going on?" an exasperated Paul di Resta asked his team during the race in Barcelona. With that, he summed up the situation in F1 at present: Pirelli's unprecedentedly heavily degrading tyres are confusing even the sport's drivers. Lewis Hamilton, having qualified on the front row, sounded amazed, sarcastic and incensed when he informed his Mercedes bosses that "I've been passed by a Williams now".
Only 24 hours earlier, the same Williams had failed to make it out of 'Q1', while many were tipping a Mercedes victory. "When we're going round three seconds slower than a GP2 car did in qualifying, and only six seconds quicker than a GP3 car did in the race, there's something wrong," said McLaren's Jenson Button.
Hamilton, asked to slow down to protect his tyres during Sunday's race, replied that he couldn't go any slower "otherwise I'm going at walking pace". "That is the way the sport has gone to improve overtaking," he told reporters afterwards. "It is for the public to judge." Until now, Pirelli has vigorously defended its mandate, having come into F1 tasked with spicing up the action by supplying tyres that will force multiple pitstops per driver.
But, amid the post-race vitriol in Spain from both inside and outside the paddock, motor sport director Paul Hembery announced that Pirelli will now make changes. "It's too late for Monaco but we'd look to change things for Silverstone," he said. Gerhard Berger, a former grand prix winner and team co-owner, explained: "They can't go on like this. "Every 14 days it's just negative advertising for them. And the fans no longer know their stuff."
In short, the pressure has built to tipping point, spurred on by vocal opponents like Red Bull, and also the media. "Is this really a formula one world championship?" said Nicola Pohl in the mass-circulation German newspaper Bild. She quoted Red Bull team boss Christian Horner saying: "It's like chess now. "And chess is not necessarily a sport that has many fans."
Hembery is quoted by Auto Motor und Sport: "In the last two years, the public has supported us. The races have become much more exciting. "But the criticism has reached a level where we can no longer be indifferent."
However, not everyone supports a major change. Apparently Ferrari and Force India are quite happy with the 2013 tyres, as is – obviously – Lotus. "It's like football," team owner Gerard Lopez said. "As soon as one team is always hitting the post, the discussion becomes making the goals a bit bigger."
Another factor is that if Pirelli makes significant compound or structure changes, they want a day of testing prior to Silverstone. "They'll never get it through," said Sauber team manager Beat Zehnder, "because all the teams would have to agree."
Info: GMM