The Formula 1 European GP turned out to be a real disappointing one for the current world champion Sebastian Vettel.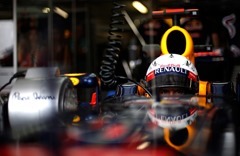 While Sebastian was well ahead and seemed to have the race in his pocket the alternator overheated and stopped supplying electrical power and as the result the engine shut down.
At this point it is not clear why this has happened it could be a number of things but it's definitely something that the Red Bull and Renault engineers will have too look at.
Here are the selected quotes from the drivers and team boss Christian Horner:
Mark Webber: "I'm very happy with that, obviously it's been a tough weekend up until today, but you never know what's going to happen. In the middle of the race I wasn't too happy and I didn't really know what was going on. Then there was a bit of attrition at the front and the strategy worked out. We got it all working well today and we got some good points. It was a crazy day today – but I got points, so I'm happy with that."
Sebastian Vettel: "At the moment it's not entirely clear what the problem was. I lost acceleration, the engine stalled and I couldn't do anything; that was it. You can't change it now. Up until that point it was clear we were strong, I was very happy in the car and had the pace. We were very quick today and it felt good. The initial re-start after the safety car was fine, but we're not sure of the exact problem, we'll need to look into it."
Christian Horner, Team Principal: "It was a bitterly disappointing race for Sebastian who had done everything right. He looked to be in comfortable control of the race until unfortunately during the safety car period we had a suspected issue with the alternator, which caused him to retire. We need to get the car back to fully understand the failure which we will work through with Renault, as it looked similar to the one that Grosjean had today. Mark drove a tremendous race and the strategy worked well. He started on the hard tyres then went onto the softer tyres, picking off cars getting into tyre trouble at the end, so it was a great recovery from Mark who drove well. Others had their bad luck today too. In addition to Mark's drive, another positive is that we leave Valencia knowing we have a fast car. We've extended our lead in the Constructors' and Mark's recovery was very strong."
Source: Red Bull Racing / Getty Images / Red Bull Content Pool