In the past years Formula 1 has opened new frontiers all around the world, in addition to historic races from Europe the pinnacle of motorsport have travelled to Asia, Oceania and America.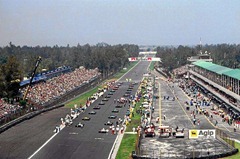 This year the big news in the championship is the U.S. grand prix that will be held at still under construction Circuit of Americas. The U.S. Formula 1 fans have one more reason to be happy since in 2013 is possible to be introduced yet another Grand Prix in New Jersey which in principle will be held sometime in June. But the expansion does not end here since Argentina also showed interest in having its own GP which is possible to be introduced in 2013 and will replace Korea.
According to a newspaper in Spain the Grand Prix of Mexico could return to F1 calendar next year. The race would be held at the Hermanos Rodrigues circuit, the same circuit that hosted Mexico's last F1 race back in 1992. The article that has appeared in Marca also says that GP has a huge backup from the Sergio Perez sponsors including: Telmex, Interprotección, Tequila Cuervo and Minister of Tourism of Mexico.
According to the writer all preliminary agreements have been made and Mexico is ready to receive Formula 1 in 2013. The race will be scheduled to take place somewhere in mid season next year.
The final negotiations for the GP should start right after the presidential elections are over, on July 1st. Some works are required to be done to the track and they will also start after the elections and all should be finished just in time to join the celebration of the Canadian GP next year.
Mexico had 15 Grands Prix. The first was held in 1963 over a period of 8 years until 1970 and returned 16 years later in 1986. Last Formula 1 GP celebrated in Mexico was back in 1992 with Michael Schumacher on its podium.
Source: Marca