The stakes are higher than ever as Daniel Ricciardo prepares to step up from Toro Rosso to Red Bull Racing in 2014.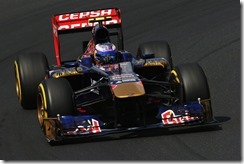 That is the warning of Red Bull junior team Toro Rosso's boss Franz Tost, as the world championship-leading squad chooses between Australian Ricciardo, Kimi Raikkonen or perhaps even Fernando Alonso for the 2014 vacancy.
If Ricciardo, 23, gets the nod, he will be the first Toro Rosso driver to step up to the main Milton Keynes-based team since Vettel in 2008.
But Tost insists the pressure on Ricciardo will be higher than it was for the then 21-year-old Vettel. "It (2008) was a completely different time," the Austrian, who has argued Ricciardo should stay at Toro Rosso for one more season, is quoted by Brazil's Totalrace. "At that time, Vettel went to a team that was still under construction. Yet today, if he goes to Red Bull, Daniel goes straight to the champion team. "The level is very high. We are preparing him in the best way possible but, ultimately, it is up to the driver to deal with it and prove he is capable."
Another difference between 2008 and 2013 is that, while the fresh-faced rookie Vettel arrived at Red Bull to be Webber's teammate, Ricciardo will be facing off against potentially a reigning quadruple world champion. "You need to have discipline to fight Sebastian Vettel," said Tost, "who is a world champion, and we cannot forget that. "The level is very high."
Info: GMM, Image: Red Bull Content Pool