Formula One World Champion Sebastian Vettel made history yesterday by becoming the first F1 driver to test the track which will host the inaugural Grand Prix of America in 2013. In front of the iconic Manhattan skyline, the 23-year-old German touched speeds of 160 km/h as he sampled the tight and twisty Monaco-style street course in a road car.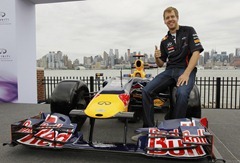 Following his run to fourth place in the Canadian Grand Prix on Sunday, Vettel drove the street circuit in an Infiniti IPL road car ahead of the inaugural Grand Prix of America, due to take place in June 2013. Vettel was joined by former Red Bull Racing driver David Coulthard as the pair completed a number of passenger rides against the iconic Manhattan skyline, set to be a major feature of the race next year.
"It's been fantastic to be the first to drive the new circuit. I was able to get some good speed up in the Infiniti and it's clear that it is going to be a big challenge in a Formula 1 car," related Vettel. "With such a great setting, too, I can't wait to get back here and race in 2013."

"Sebastian got a very small taste of what racing around the Port Imperial course will be like, but there's no substitute for when he'll be driving at just over 200 miles an hour," said Hindery. "We can't wait to host him and the world's other elite drivers with the world's greatest city in the background. We're one year out from 100,000 fans streaming to the race via NJ Transit, PATH and the combined NY Waterway Ferry and Bus Network."
The promoters of the race pledge the event will receive no subsidies from either local or state government, and will bring millions of dollars to New Jersey and the surrounding region each year. Upward of 100,000 people are expected to attend the three-day event, largely through the use of public transportation.
Construction of garages and other permanent facilities are well under way and track engineers are working hard to ensure a safe and enjoyable experience. The 3.2-mile course will be run on existing streets in Port Imperial, Weehawken and West New York, along the Hudson River and at the top of the Palisades, with the New York City skyline as the backdrop.
Source: Racer.com, Image: Getty Images/Red Bull Content Pool