World champion Sebastian Vettel has jumped to the defence of F1's embattled chief executive.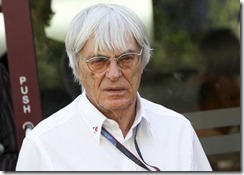 Already under fire by German prosecutors over the Gerhard Gribkowsky bribe affair, Ecclestone's troubles worsened this week when a London court ordered his bosses at F1 owner CVC to release hundreds of documents about the sale of the sport years ago.
The Financial Times said the documents relate to German media group Constantin Medien's $171 million lawsuit claiming F1 was undervalued when it was sold to CVC in 2006. Most figures in the paddock have been reluctant to comment on Ecclestone's troubles, which could end the 82-year-old's decades-long reign over formula one.
But Vettel is quoted by Germany's Bild newspaper: "The bottom line is that he is the one who brought formula one to such a high level." And Mercedes' Nico Rosberg reportedly added: "He has done so much for this sport for so many years."
According to media speculation, one potential successor for Ecclestone is Christian Horner, currently Vettel's team boss at Red Bull. But the Briton played down the prospect, insisting he is "fully focused on what I'm doing". "I hope he (Ecclestone) goes on for a long time to come," Horner is quoted by the Daily Mail. "The business, as it is today, is because of the way he has run it and operated it. It is unimaginable for him not to be there."
Info: GMM, Image: FanPage