Lewis Hamilton does not expect Sebastian Vettel to have it all his own way this season despite the world champion winning two of the four races so far.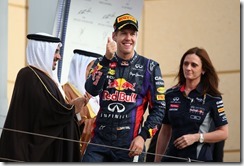 Victory in Malaysia and Bahrain has seen the triple world champion move ten points clear of Kimi Raikkonen but despite his two wins, the German has struggled in qualifying and Hamilton believes he will not run away with the championship.
"Seb always seems to win in Bahrain, so that was no real surprise for us. I don't think it will be the same for Seb in all the races plus Red Bull have seemed to struggle in some qualifying sessions," Hamilton is quoted as saying in the Sun.
Having finished on the podium in Malaysia and China, Hamilton was looking for a third straight top-three finish in Bahrain but a grid penalty meant he had to settle for fifth.
It was not a bad result for the Mercedes driver and he is hopeful that the Bahrain Grand Prix will prove to be one of the worst performances for the team.
"The Bahrain Grand Prix could turn out to be one of the worst grands prix for us because we had a lot of problems with the car," he said.
"We were on the back foot all weekend, so to come away with a fifth place when I started in ninth, was really pleasing.
"I turned a negative into a positive and now had two thirds and two fifths. When I was joining a new team, I thought it would be a lot worse than that."
Info: Setanta, Image: Red Bull Content Pool
Like us on Facebook and follow us on Twitter for all the updates of the Formula 1 2013 season.