Silverstone is inextricably linked with Formula 1: the circuit staged the opening round of the inaugural world championship in 1950 and has been the exclusive home of the British Grand Prix since 1987.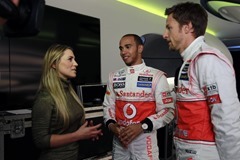 The track is situated on a plateau, on the site of a former World War II bomber station and, despite several facelifts over the years, it still retains much of its original high-speed challenge. It was the scene of F1's first 160mph qualifying lap [set by Keke Rosebrg in a Williams in 1985], and the middle section of the 'new' lap – Copse, Becketts and Stowe – remains one of the fastest and most revered stretches of racetrack anywhere in the world.
The most recent change to the layout came in 2010, when the new Arena Complex added 759 metres to the length. Last year the start-finish straight was moved in between Club and Abbey corners to coincide with the opening of a brand new pit and paddock complex in the infield. Both Lewis and Jenson have had mixed fortunes at Silverstone. It was the scene of one of Lewis's greatest victories in 2008, while Jenson has yet to finish on the podium at his home circuit.
Jenson Button: "I'm really looking forward to the Santander British Grand Prix. We've been making progress in a lot of areas and while I wasn't able to show that in terms of the result at Valencia – mainly because I got boxed in at the start, then wasn't very lucky with the Safety Car – our strategy was fine and the car improved throughout the race. This has been an incredibly unpredictable season, but at least it's a little easier to predict that Silverstone will once again be packed and that all the British drivers are going to get a lift from the energy the fans bring. I always enjoy racing at home because the atmosphere is unbeatable, and while the race itself hasn't always been too kind to me, I come here every year knowing I can count on the support of the many thousands of fans.

"We all had to adjust last year to starting in a different place on the circuit, which is a very odd thing when you've spent your entire racing career treating Copse as Turn One! Formula 1 is all about evolution, about looking to the future, and Silverstone has demonstrated its adaptability all through the years. It's part of the fabric of F1, and still one of the world's greatest motor racing circuits."
Lewis Hamilton: "Sometimes you have to accept when things don't go your way in racing. Obviously it was frustrating to lose out so close to the finish, but that's motor racing: you put it behind you and move on to the next race – which, happily for me, is at my home circuit of Silverstone. It doesn't really alter the way I go racing because I race to win, and that's what I'll be doing, especially at my home grand prix. The Santander British Grand Prix is special because I get a massive boost from all the fans. To me, winning at Silverstone is right up there with winning at Monaco. Standing on the top step of the podium in 2008 was among the sweetest moments of my career.

"I know we can count on the fans to bring a totally unique atmosphere. We're going to give it everything we've got, put on a great show. This is an incredible summer of sport for Britain and I want to play my small part in bringing some joy to fans. I will be doing everything possible to get a win for my country on home soil."
Martin Whitmarsh: "The races so far this season have been very difficult to read, and while that may be frustrating for some, it also creates opportunities. It has also made for some incredibly exciting races and challenged many preconceptions – as we saw last time out at Valencia, a circuit at which established wisdom tells you there are very few opportunities to overtake.

"As we look forward to the Santander British Grand Prix, therefore, we have to keep an open mind from the minute we arrive to the moment the chequered flag is unfurled. The team that best manages the performance delta of the tyres is the one best placed to win, and to do that you have to take every opportunity to gather data and learn from it quickly and effectively. Today, Grands Prix are no longer sprint races that are won or lost on the first lap.

"While that means hard work for us and for our rivals, it is excellent news for the fans in the grandstands and for those watching at home. It means excitement from beginning to end, and that is what Formula 1 must continue to offer.
"This is our home race and we approach it, as ever, determined to win. I genuinely expect the Santander British Grand Prix to be an unmissable spectacle."
Source: Vodafone McLaren Mercedes
Find us on Facebook and Twitter for all the latest updates for the F1 2012 season