FIA presidential candidate David Ward has denied he is siding with F1's old guard Max Mosley and Bernie Ecclestone in his push to dethrone Jean Todt.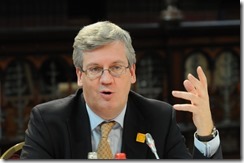 It has been rumoured that Ward, who worked closely with Mosley before Frenchman Todt took over, is being backed strongly not only by Mosley, but also the former FIA president's hand-in-hand powerbroker Ecclestone. And not only that, the Daily Mail reports that Ward's campaign will be "helped" by Richard Woods, the former right-hand man during the Mosley reign. "Woods has also acted for Ecclestone, albeit in the shadows," said correspondent Jonathan McEvoy. "Despite having fingers in many pies, he is fundamentally a Mosley loyalist," he added.
Ward, however, plays down the links. "I am not Max's man; I am not Bernie's man," he insisted, also denying that Mosley or Ecclestone are bankrolling his campaign.
Incumbent Todt, however, sounded less sure about Ward's continuing links to Mosley and Ecclestone. "Don't put me into that please," he told the Telegraph last weekend at Monza. "Because honestly I have my own thoughts. "I have very good contact with Max. I like Max. I have always been defending Max. "In May he sent me an email saying 'Don't hear the noise that I am interested (in the presidency) or that David is interested … it's not true. I am not interested'."
Info: GMM, Image: FIA-Foundation