Martin Whitmarsh is determined to keep his job at McLaren, despite the depth of the great British team's 2013 slump.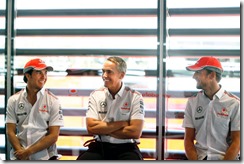 It was hoped the Woking based team would start to recover in Barcelona with a big package of upgrades, but Jenson Button qualified an awful 14th on Saturday. Moreover, a plan to rush new front wings from the factory to the circuit failed spectacularly when McLaren baulked at the legality of the design. "We got them here, but were unable to be confident they complied legally," said Whitmarsh.
The McLaren crisis is causing some to wonder if McLaren might oust Whitmarsh, who has seen Lewis Hamilton, Paddy Lowe and title sponsor Vodafone all decide to leave recently. "I don't believe it's being considered at board level at the moment," he is quoted by British newspapers. Whitmarsh also said he is not thinking about quitting. "I believe in the team, I believe we're going to power through this, so I'm not considering anything other than getting this team back to where it belongs," he said.
The only bright spot for McLaren in Spain was Sergio Perez managing to qualify among the top-ten — an achievement that surprised Button. "Obviously he did everything right," the Briton said of his Mexican teammate.
But Button denied that, with the MP4-28 failing to improve, it is now an obvious choice for McLaren to abandon 2013 and prepare a better car for next season. "This is a great team," he is quoted by Auto Motor und Sport, "with many partners and sponsors. "If we can achieve something this year, then it would be wrong to write off this season. "Of course I want a good season in 2014, but it's still too early to put everything in one basket."
Info: GMM, Image: McLaren