Martin Whitmarsh on Tuesday threw a new spanner in the 'silly season' works, refusing to rule out a return to McLaren for Kimi Raikkonen.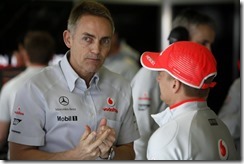 Off the back of the Finn's rumoured moves to Red Bull or Ferrari, it actually now seemed more likely the 2007 world champion will simply stay at Lotus. But McLaren boss Whitmarsh on Tuesday admitted he has considered making a move to bring Raikkonen, who drove for the British team between 2002 and 2006, back to McLaren. "Yes, we have (considered it)," he told F1's official website. "Kimi has always been great and I am a big fan of him. There is a lot of speculation out there at the moment, so let's see what happens."
Whitmarsh's comments on Tuesday are a surprise, as the latest reports suggest Jenson Button will certainly stay in 2014, while the McLaren boss said at Spa at the weekend that Mexican Sergio Perez deserves another chance in a better car. "I probably shouldn't be, but I'm completely open," Whitmarsh said. "Last year we had talks with him (Raikkonen), but for various reasons it didn't happen.
This year we've had no talks — yet." Asked if an approach may be made to Raikkonen, or vice versa, he admitted: "Yes, could be. "Obviously Kimi is determined to go somewhere else and I sense that he will not succeed in that goal, so let's see how he gets on there." Whitmarsh hinted that if there is a place for Raikkonen in 2014, it would be alongside Button. He was asked if an all-champion lineup would give McLaren positive media mileage in the season before the switch to Honda power. "Yes, it might do," he said. "We'll see. We are not talking to Kimi at the moment, so let's see what happens in the drivers market."
Info: GMM, Image: McLaren