Williams is pinning its hopes of turning its fortunes around early in the season with a big upgrade package that will be introduced at the Spanish Grand Prix.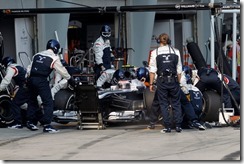 Williams, which returned to winning ways last year thanks to Pastor Maldonado's victory at Barcelona, has struggled with an uncompetitive car in the first two races of 2013. The team has failed to score a point so far and has an 11th place finish as its best result so far.
Technical director Mike Coughlan said ahead of the Chinese Grand Prix that the team has a better understanding of its problems now, and is hopeful it can take a step forward.
"After a difficult two races we've been back at the factory going through the data to try to understand where we need to improve," Coughlan said. "We feel we have a better understanding of where we are and the whole team has been working hard to improve our competitiveness going into the next few races. Ultimately we are looking at a significant upgrade for the Spanish Grand Prix."
Maldonado, who qualified in 17th and 16th places in the first two races, admitted Williams needs to raise its game quickly in order to score points consistently.
"We haven't had the best start to the season and we need some time to improve our car to be solid in the points, but the whole team is working very hard so let's wait and see how we can adapt the car for this race," Maldonado said.
Info: Autosport.com, Image: Williams F1 Team