Toto Wolff has dismissed suggestions Mercedes will sanction Lewis Hamilton for ignoring team orders in Hungary.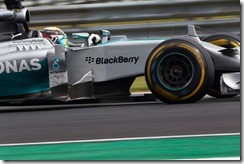 Although it was potentially explosive, the German team closed ranks after the incident but rumours persisted that the 2008 world champion will be punished behind closed doors. "Something like that will not happen," boss Wolff is quoted by Der Spiegel. "We are all adults — we just have to do a better job next time." Indeed, Mercedes is admitting its own culpability after repeatedly asking Hamilton to slow down to let Nico Rosberg – on a different strategy – pass him.
The typically non-controversial Rosberg has quietly admitted he thinks Hamilton's defiance cost him the win, but otherwise he is playing a cool hand as usual. "I will not respond just because you want me to," he told German reporters. "It's not my style to respond. The title race will remain intense until the end, but I'm looking forward to it." Mercedes team chairman Niki Lauda backed Hamilton after the race, while Wolff admitted that Mercedes may have to rethink its approach to team orders in light of the intensifying battle.
Red Bull boss Christian Horner, whose Daniel Ricciardo won in Hungary, also thinks Hamilton was right to ignore the order. "You can understand Lewis," he said. "He's fighting Nico. If he lets him run his fastest strategy, it puts him under pressure. "It's entirely understandable from Lewis' point of view to say 'not today thanks'."
In the calm of Monday, Wolff basically agreed. "When two teammates become the main rivals for the championship," he said, "it is clear that every decision taken by the drivers and the team is affected by a climate of very heavy emotion. "Many decisions in Budapest were made under pressure," Wolff is quoted by Italy's Autosprint, "with little time to evaluate them thoroughly. "It is now evident that we are in a situation where we cannot ask one of our drivers to damage himself for the interest of the team. "The message to Hamilton was probably wrong, but it was a very difficult time to determine what was right and what was wrong."
Image: Mercedes GP