The FIA has confirmed that next week's Young Driver Test at Silverstone will remain a three-day event and will be open to race drivers as long as they are testing tyres.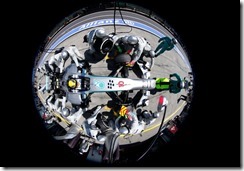 The three days at Silverstone, from July 17-19, were originally the only official in-season test days the teams were supposed to take part in, but have hit the headlines this year due to Pirelli's tyre struggles and Mercedes' ban. After several teams experienced blowouts at the British Grand Prix, the FIA said it would allow race drivers to take part in the test and floated the possibility of running it for a fourth day.
However, after talks between the teams the test will remain a three day event and race drivers will only be able to complete run plans dictated by Pirelli. It should rule out race drivers testing new parts, although young drivers, who the test was initially aimed at, will be able to complete whatever test plan the teams want.
The tyres being tested will be the new specification that Pirelli intends to run for the rest of the season, starting in Hungary. The new tyres will marry 2012 constructions with 2013 compounds, but due to the nature of the Silverstone circuit only the hard and medium compounds will be on offer at the test.
"The announcement follows a meeting of F1's Sporting Committee on Wednesday, July 3 at the Nürburgring, prior the German Grand Prix," read an FIA statement. "The conditions set out are in accordance with Article 22.4(h)(i) of the F1 Sporting Regulations, as recently amended by the World Motor Sport Council, and are as follows:
"The Young Driver Training Test will remain a three-day test, from July 17-19.
"Only the 2012 construction will be used for the test but with the hard, medium and soft 2013 compounds.
"The test will now allow teams to field drivers who have competed in more than two F1 World Championship events provided that the purpose of them doing this is to test tyres for Pirelli.
"In order to meet this requirement, all teams shall ensure that any changes made to a car at these times are exclusively related to the tyre tests set out in the run plan provided by Pirelli.
"An FIA observer will be appointed to ensure the regulations are being followed."
Mercedes was among the teams pushing for a fourth day as it would have allowed it to test for at least one day despite its ban. However, the teams could not agree on extending it to four days and as a result it looks as though Mercedes will miss out completely.
"I don't think people realise how much of a negative it is for us to be missing the test," Mercedes driver Lewis Hamilton said at the weekend. "We'll be going to Hungary and others will have tested different tyre pressures. We will go into it blind. We shouldn't be in this position."
Info: ESPN EMEA Ltd., Image: Daimler Media