Kimi Räikkönen and Romain Grosjean took to the track for the first practice sessions on the streets of Monaco in mixed conditions today.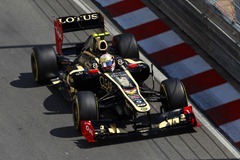 A dry and warm morning session was followed by a mixed dry and wet afternoon session. With both drivers using the new helmet and front wing designs.
Kimi completed just his initial installation lap in FP1 as he found the Monaco steering setup not to be to his liking and then he remain stuck in the garage while the mechanics were changing the front suspension and steering, meanwhile on the track Romain Grosjean was conducting evaluations of Monaco setup and gaining initial data of Pirelli's soft compound.
In FP2 the team decided to run  less fuel than usual, focusing on qualifying specification performance of the soft and super soft compound tyres when the track was sufficiently dry. In the second part of the practice session both Lotus cars tried on the Intermediate tyres.
Here is what both drivers had to say after the first day at work in Monaco:
Kimi Raikkonen: "It's good to be back in Monaco even if we missed some running today. The steering wasn't to my liking so the team changed it for me. It's something you change for Monaco and there's no way of knowing what it will be like beforehand. The car felt good in the second session, though it was obviously pretty slippery when the track was wet. I would have liked to have had more time in the car, but Monaco's a track I know pretty well and it hasn't changed much over the years. Let's see what happens tomorrow."
Romain Grosjean: "I think the car is suiting the track pretty well and I love Monaco, it's good to be here and it's nice to see so many fans. The car was looking good this morning and this afternoon – we are working in a good direction. Unfortunately it was a bit wet this afternoon and we couldn't do all the programme we wanted to achieve but as we have a good baseline it shouldn't be such a big deal. Let's see what the weather will be like tomorrow and what we can achieve. I think that we are looking good in both conditions."
The technical director James Allison was also pleased with the team performance and he felt the need to add the following:
"We're happy with today's performance as we came here with a certain amount of trepidation about whether our cars would be competitive. It was a disappointment to have missed the first session whilst we changed the steering setup on Kimi's car, but he's an old enough trooper to get himself up to speed on Saturday. The pace shown by Romain in both sessions was certainly encouraging. All the Monaco upgrades seem to be working well and the E20 is pretty happy around what is a very unique track."
Source: Lotus F1 Team