Sebastian Vettel was just a bit quicker than Red Bull team mate Mark Webber in the final practice session in Abu Dhabi this afternoon, but again the times were extremely tight as Mercedes duo Lewis Hamilton and Nico Rosberg were pushing strong.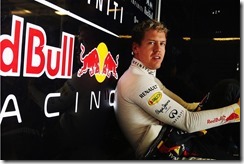 It was Rosberg who set the pace on the medium Pirellis with a lap of 1m 43.465s just ahead of Webber's 1m 43.579s, with Vettel and Hamilton next up with 1m 43.541s and 1m 43.785s. But the picture changed back in Red Bull's favour when the softs went on in the final 10 minutes of the session.
Vettel claimed the top spot again with 1m 41.349s from Hamilton on 1m 41.580s, until Webber squeezed between them right at the end with 1m 41.571s. Rosberg was fourth on 1m 41.721s, as Romain Grosjean kept Lotus in play with 1m 41.832s. Jenson Button also demonstrated the improvement McLaren have quietly been making, with sixth fastest time of 1m 41.956s.
| | | | | |
| --- | --- | --- | --- | --- |
| Pos. | Drivers | Teams | Time | Laps |
| 01. | Sebastian Vettel | Red Bull Racing | 1:41.349 | 19 |
| 02. | Mark Webber | Red Bull Racing | 1:41.571 | 17 |
| 03. | Lewis Hamilton | Mercedes AMG Petronas | 1:41.580 | 18 |
| 04. | Nico Rosberg | Mercedes AMG Petronas | 1:41.721 | 19 |
| 05. | Romain Grosjean | Lotus F1 | 1:41.832 | 19 |
| 06. | Jenson Button | Vodafone McLaren Mercedes | 1:41.956 | 19 |
| 07. | Nico Hulkenberg | Sauber F1 | 1:42.055 | 19 |
| 08. | Esteban Gutiérrez | Sauber F1 | 1:42.282 | 19 |
| 09. | Kimi Raikkonen | Lotus F1 | 1:42.387 | 18 |
| 10. | Jean-Eric Vergne | Scuderia Toro Rosso | 1:42.457 | 21 |
| 11. | Fernando Alonso | Scuderia Ferrari | 1:42.516 | 15 |
| 12. | Paul di Resta | Sahara Force India | 1:42.681 | 23 |
| 13. | Valtteri Bottas | Williams F1 | 1:42.698 | 19 |
| 14. | Felipe Massa | Scuderia Ferrari | 1:42.702 | 16 |
| 15. | Daniel Ricciardo | Scuderia Toro Rosso | 1:42.727 | 18 |
| 16. | Pastor Maldonado | Williams F1 | 1:42.798 | 18 |
| 17. | Adrian Sutil | Sahara Force India | 1:42.989 | 22 |
| 18. | Sergio Perez | Vodafone McLaren Mercedes | 1:43.142 | 15 |
| 19. | Giedo van der Garde | Caterham F1 Team | 1:44.472 | 20 |
| 20. | Charles Pic | Caterham F1 Team | 1:44.728 | 21 |
| 21. | Max Chilton | Marussia F1 Team | 1:45.621 | 20 |
| 22. | Jules Bianchi | Marussia F1 Team | 1:47.506 | 15 |