Lewis Hamilton takes the lead for Mercedes in the second free practice of the Australian Grand Prix.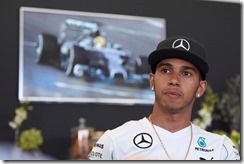 This morning's opening session in Melbourne, the first of Formula One racing's new turbocharged hybrid 1.6-litre V6 engine era, saw Ferrari's Fernando Alonso top the times from McLaren's Jenson Button. Williams duo Valtteri Bottas and Felipe Massa were third and fourth fastest, ahead of home favourite Daniel Ricciardo in the Red Bull.
Nico Rosberg was sixth fastest, but team mate Lewis Hamilton – another of the pre-race favourites – had a nightmare session as his Mercedes ground to a smoky halt on his first lap of the day. Lotus and Caterham were two other teams who hit trouble in FP1, with Romain Grosjean unable to get out of the Lotus garage at all.
Mercedes lived up to their billing as pre-race favourites by taking a commanding one-two in second practice in Australia on Friday afternoon.
Lewis Hamilton, who missed almost all of FP1 after his car developed a technical issue, showed team mate Nico Rosberg the way, with Ferrari's Fernando Alonso and Red Bull's Sebastian Vettel in third and fourth positions.
| | | | | |
| --- | --- | --- | --- | --- |
| Pos. | Drivers | Teams | Time | Laps |
| 01. | Lewis Hamilton | Mercedes AMG Petronas | 1:29.625 | 37 |
| 02. | Nico Rosberg | Mercedes AMG Petronas | 1:29.782 | 31 |
| 03. | Fernando Alonso | Scuderia Ferrari | 1:30.132 | 28 |
| 04. | Sebastian Vettel | Red Bull Racing | 1:30.381 | 41 |
| 05. | Jenson Button | McLaren Mercedes | 1:30.510 | 33 |
| 06. | Daniel Ricciardo | Red Bull Racing | 1:30.538 | 38 |
| 07. | Kimi Raikkonen | Scuderia Ferrari | 1:30.898 | 32 |
| 08. | Valtteri Bottas | Williams Martini Racing | 1:30.920 | 38 |
| 09. | Kevin Magnussen | McLaren Mercedes | 1:31.031 | 34 |
| 10. | Nico Hulkenberg | Sahara Force India | 1:31.054 | 33 |
| 11. | Jean-Eric Vergne | Scuderia Toro Rosso | 1:31.060 | 35 |
| 12. | Felipe Massa | Williams Martini Racing | 1:31.119 | 31 |
| 13. | Sergio Perez | Sahara Force India | 1:31.283 | 36 |
| 14. | Adrian Sutil | Sauber F1 Team | 1:32.355 | 36 |
| 15. | Esteban Gutierrez | Sauber F1 Team | 1:32.468 | 26 |
| 16. | Daniil Kvyat | Scuderia Toro Rosso | 1:32.495 | 36 |
| 17. | Jules Bianchi | Marussia F1 Team | 1:33.486 | 29 |
| 18. | Romain Grosjean | Lotus F1 Team | 1:32.646 | 12 |
| 19. | Max Chilton | Marussia F1 Team | 1:34.757 | 29 |
| 20. | Marcus Ericsson | Caterham F1 Team | no time | 1 |
| 21. | Kamui Kobayashi | Caterham F1 Team | no time | 0 |
| 22. | Pastor Maldonado | Lotus F1 Team | no time | 0 |