Nico Rosberg keeps the silver arrows on top while Jenson Button moves McLaren ahead.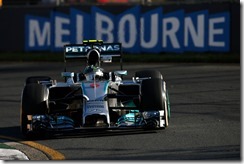 Yesterday we saw Ferrari's Fernando Alonso and Mercedes' Lewis Hamilton top the first two practice sessions of the 1.6-litre turbocharged hybrid V6 engine era, whilst reigning world champions Red Bull showed much more promising pace and reliability than in testing. Williams, McLaren and Force India also all looked competitive.
As expected, however, several teams suffered technical issues, including Lotus and Caterham, both of whom had to make changes to parts of the Renault power units on their cars. Along with Marussia, Lotus also broke the curfew on extended working hours last night as they continued to prepare the E22 for qualifying.
In an enthralling hour of action at Albert Park, the German lapped in 1m 29.375s on the soft tyres to finish over a second ahead of McLaren's Jenson Button they were followed by Fernando Alonso for third, Lewis Hamilton and Daniel Ricciardo for fourth and fifth respectively.
| | | | | |
| --- | --- | --- | --- | --- |
| Pos. | Drivers | Teams | Time | Laps |
| 01. | Nico Rosberg | Mercedes AMG Petronas | 1:29.375 | 15 |
| 02. | Jenson Button | McLaren Mercedes | 1:30.766 | 20 |
| 03. | Fernando Alonso | Scuderia Ferrari | 1:30.876 | 11 |
| 04. | Lewis Hamilton | Mercedes AMG Petronas | 1:30.919 | 13 |
| 05. | Daniel Ricciardo | Red Bull Racing | 1:30.970 | 13 |
| 06. | Nico Hulkenberg | Sahara Force India | 1:30.978 | 16 |
| 07. | Kimi Raikkonen | Scuderia Ferrari | 1:31.156 | 12 |
| 08. | Kevin Magnussen | McLaren Mercedes | 1:31.251 | 22 |
| 09. | Sergio Perez | Sahara Force India | 1:31.665 | 17 |
| 10. | Felipe Massa | Williams Martini Racing | 1:31.723 | 20 |
| 11. | Daniil Kvyat | Scuderia Toro Rosso | 1:31.925 | 17 |
| 12. | Sebastian Vettel | Williams Martini Racing | 1:32.255 | 14 |
| 13. | Jean-Eric Vergne | Scuderia Toro Rosso | 1:32.417 | 16 |
| 14. | Jules Bianchi | Marussia F1 Team | 1:34.184 | 15 |
| 15. | Adrian Sutil | Sauber F1 Team | 1:34.188 | 16 |
| 16. | Kamui Kobayashi | Caterham F1 Team | 1:34.413 | 19 |
| 17. | Max Chilton | Marussia F1 Team | 1:34.717 | 15 |
| 18. | Pastor Maldonado | Lotus F1 Team | 1:34.754 | 15 |
| 19. | Marcus Ericsson | Caterham F1 Team | 1:36.159 | 21 |
| 20. | Valtteri Bottas | Williams Martini Racing | no time | 2 |
| 21. | Esteban Gutierrez | Sauber F1 Team | no time | 2 |
| 22. | Romain Grosjean | Lotus F1 Team | no time | 4 |