Lewis Hamilton fights back in Austria and sets the fastest time in the second free practice of the Austrian Grand Prix.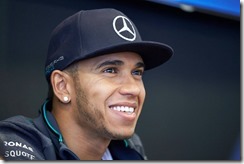 The English driver was the first to set a time below 1:10secs and managed to place himself at the top of the timesheets having a margin of almost 0.377secs over his teammate.
Fernando Alonso kept his third place from the morning session ahead of both Williams drivers.
The reigning world champion Sebastian Vettel found some pace in his RB10 and put it in sixth place just ahead of McLaren's Jenson Button.
Red Bull's Daniel Ricciardo was eighth, ahead of Button's team-mate Kevin Magnussen, with Toro Rosso's Jean-Eric Vergne 10th.
| | | | | |
| --- | --- | --- | --- | --- |
| Pos. | Drivers | Teams | Time | Laps |
| 01. | 44 – Lewis Hamilton | Mercedes AMG Petronas | 1:09.542 | 37 |
| 02. | 06 – Nico Rosberg | Mercedes AMG Petronas | 1:09.919 | 50 |
| 03. | 14 – Fernando Alonso | Scuderia Ferrari | 1:10.470 | 40 |
| 04. | 77 – Valtteri Bottas | Williams Martini Racing | 1:10.519 | 44 |
| 05. | 19 – Felipe Massa | Williams Martini Racing | 1:10.521 | 39 |
| 06. | 01 – Sebastian Vettel | Red Bull Racing | 1:10.807 | 39 |
| 07. | 22 – Jenson Button | McLaren F1 | 1:10.813 | 44 |
| 08. | 03 – Daniel Ricciardo | Red Bull Racing | 1:10.920 | 36 |
| 09. | 20 – Kevin Magnussen | McLaren F1 | 1:10.936 | 45 |
| 10. | 25 – Jean-Eric Vergne | Scuderia Toro Rosso | 1:10.972 | 39 |
| 11. | 07 – Kimi Raikkonen | Scuderia Ferrari | 1:10.974 | 45 |
| 12. | 26 – Daniil Kvyat | Scuderia Toro Rosso | 1:11.261 | 45 |
| 13. | 11 – Sergio Perez | Sahara Force India | 1:11.296 | 36 |
| 14. | 21 – Esteban Gutierrez | Sauber F1 Team | 1:11.491 | 42 |
| 15. | 13 – Pastor Maldonado | Lotus F1 Team | 1:11.765 | 30 |
| 16. | 99 – Adrian Sutil | Sauber F1 Team | 1:11.806 | 42 |
| 17. | 27 – Nico Hulkenberg | Sahara Force India | 1:11.935 | 39 |
| 18. | 04 – Max Chilton | Marussia F1 Team | 1:12.229 | 43 |
| 19. | 08 – Romain Grosjean | Lotus F1 Team | 1:12.262 | 46 |
| 20. | 17 – Jules Bianchi | Marussia F1 Team | 1:12.279 | 36 |
| 21. | 10 – Kamui Kobayashi | Caterham F1 Team | 1:12.937 | 24 |
| 22. | 09 – Marcus Ericsson | Caterham F1 Team | 1:13.596 | 48 |