Williams took everyone by surprise as they locked up the front row of the Austrian GP.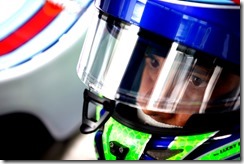 Felipe Massa took a sensational pole position for Williams at the Austrian Grand Prix ahead of teammate Valtteri Bottas as Mercedes' Nico Rosberg and Lewis Hamilton made crucial mistakes.
Massa heads teammate Valtteri Bottas in an all-Williams front row with Rosberg third and Fernando Alonso fourth while Hamilton is only ninth. He ran wide and had the lap discounted on his first run, then he spun with an apparent problem on his rear brakes in his second attempt to get the pole.
Pos.

Drivers

Teams

Time

Laps

01.
19 – Felipe Massa
Williams Martini Racing
1:08.759
19
02.
77 – Valtteri Bottas
Williams Martini Racing
1:08.846
19
03.
06 – Nico Rosberg
Mercedes AMG Petronas
1:08.944
17
04.
14 – Fernando Alonso
Scuderia Ferrari
1:09.285
25
05.
03 – Daniel Ricciardo
Red Bull Racing
1:09.466
22
06.
20 – Kevin Magnussen
McLaren Mercedes
1:09.515
29
07.
26 – Daniil Kvyat
Scuderia Toro Rosso
1:09.619
21
08.
07 – Kimi Raikkonen
Scuderia Ferrari
1:10.795
23
09.
44 – Lewis Hamilton
Mercedes AMG Petronas
no time
15
10.
27 – Nico Hulkenberg
Sahara Force India
no time
23
11.
11 – Sergio Perez*
Sahara Force India
1:09.754
18
12.
22 – Jenson Button
McLaren Mercedes
1:09.780
22
13.
01 – Sebastian Vettel
Red Bull Racing
1:09.801
15
14.
13 – Pastor Maldonado
Lotus F1 Team
1:09.939
18
15.
25 – Jean-Eric Vergne
Scuderia Toro Rosso
1:10.073
19
16.
08 – Romain Grosjean
Lotus F1 Team
1:10.642
21
17.
99 – Adrian Sutil
Sauber F1 Team
1:10.825
10
18.
21 – Esteban Gutierrez
Sauber F1 Team
1:11.349
10
19.
17 – Jules Bianchi
Marussia F1 Team
1:11.412
9
20.
10 – Kamui Kobayashi
Caterham F1 Team
1:11.673
10
21.
04 – Max Chilton**
Marussia F1 Team
1:11.775
10
22.
09 – Marcus Ericsson
Caterham F1 Team
1:12.673
11

11 – Sergio Perez* – Will lose 5 places thanks to the penalty he collected after the collision with Felipe Massa in Canadian GP
04 – Max Chilton** – Will lose 3 places for causing a collision with his teammate in Canada two weeks ago
Image: Williams Martini Racing