Red Bull's Daniel Ricciardo wins the Belgian Grand Prix after a second-lap clash between the Mercedes teammates.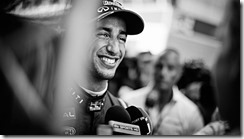 Rosberg's front wing had to be changed before he fought back to second but Hamilton suffered a puncture and he had to retire later in the race.
The German is now 29 points ahead of his Mercedes team-mate, equaling the biggest lead he has held this season.
Williams' Valtteri Bottas took third ahead of Ferrari's Kimi Raikkonen.
| | | | |
| --- | --- | --- | --- |
| Pos. | Drivers | Teams | Time |
| 01. | 03 – Daniel Ricciardo | Red Bull Racing | Winner |
| 02. | 06 – Nico Rosberg | Mercedes AMG Petronas | +3.3 secs |
| 03. | 77 – Valtteri Bottas | Williams Martini Racing | +28.0 secs |
| 04. | 07 – Kimi Raikkonen | Scuderia Ferrari | +36.8 secs |
| 05. | 01 – Sebastian Vettel | Williams Martini Racing | +52.1 secs |
| 06. | 20 – Kevin Magnussen | McLaren Mercedes | +54.2 secs |
| 07. | 22 – Jenson Button | Red Bull Racing | +54.5 secs |
| 08. | 14 – Fernando Alonso | Scuderia Ferrari | +61.1 secs |
| 09. | 11 – Sergio Perez | Sahara Force India | +64.2 secs |
| 10. | 26 – Daniil Kvyat | Scuderia Toro Rosso | +65.3 secs |
| 11. | 27 – Nico Hulkenberg | Sahara Force India | +65.6 secs |
| 12. | 25 – Jean-Eric Vergne | McLaren Mercedes | +71.9 secs |
| 13. | 19 – Felipe Massa | Lotus F1 Team | +75.9 secs |
| 14. | 99 – Adrian Sutil | Sauber F1 Team | +82.4 secs |
| 15. | 21 – Esteban Gutierrez | Sauber F1 Team | +90.8 secs |
| 16. | 04 – Max Chilton | Marussia F1 Team | +1 Lap |
| 17. | 09 – Marcus Ericsson | Caterham F1 Team | +1 Lap |
| 18. | 17 – Jules Bianchi | Marussia F1 Team | RETIRED |
| 19. | 44 – Lewis Hamilton | Mercedes AMG Petronas | RETIRED |
| 20. | 08 – Romain Grosjean | Lotus F1 Team | RETIRED |
| 21. | 13 – Pastor Maldonado | Lotus F1 Team | RETIRED |
| 22. | 45 – Andre Lotterer | Caterham F1 Team | RETIRED |