Red Bull dominated Friday's second session, with both Sebastian Vettel and Mark Webber almost a second quicker than the Lotus of Romain Grosjean.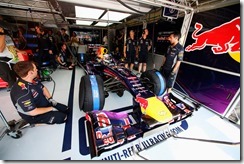 Both Vettel and Ferrari's Fernando Alonso suffered right-rear punctures late in FP2 around Turn 14. Pirelli suspect both were caused by debris on the track.Tyre choice here is the hard (orange markings) and medium (white) compounds.
So, at the end of final practice it is still Red Bull leading the way, but Ferrari looking very much in the hunt as Alonso splits Vettel and Webber with just two-tenths separating the three.
It all bodes well for a very competitive qualifying session, which may or may not be wet. Join us again in just under two hours' time to see who will take pole at Spa-Francorchamps.
| | | | | |
| --- | --- | --- | --- | --- |
| Pos. | Drivers | Teams | Time | Laps |
| 01. | Sebastian Vettel | Red Bull Racing | 1:48.327 | 16 |
| 02. | Fernando Alonso | Scuderia Ferrari | 1:48.432 | 14 |
| 03. | Mark Webber | Red Bull Racing | 1:48.533 | 16 |
| 04. | Jean-Eric Vergne | Scuderia Toro Rosso | 1:48.776 | 15 |
| 05. | Felipe Massa | Scuderia Ferrari | 1:48.788 | 15 |
| 06. | Jenson Button | Vodafone McLaren Mercedes | 1:48.882 | 13 |
| 07. | Esteban Gutiérrez | Sauber F1 | 1:48.930 | 18 |
| 08. | Romain Grosjean | Lotus F1 | 1:48.967 | 14 |
| 09. | Nico Rosberg | Mercedes AMG Petronas | 1:48.993 | 16 |
| 10. | Kimi Raikkonen | Lotus F1 | 1:49.008 | 17 |
| 11. | Daniel Ricciardo | Scuderia Toro Rosso | 1:49.035 | 15 |
| 12. | Lewis Hamilton | Mercedes AMG Petronas | 1:49.046 | 17 |
| 13. | Adrian Sutil | Sahara Force India | 1:49.122 | 15 |
| 14. | Valtteri Bottas | Williams F1 | 1:49.177 | 15 |
| 15. | Paul di Resta | Sahara Force India | 1:49.226 | 14 |
| 16. | Sergio Perez | Scuderia Toro Rosso | 1:49.417 | 14 |
| 17. | Nico Hulkenberg | Sauber F1 | 1:49.478 | 19 |
| 18. | Pastor Maldonado | Williams F1 | 1:50.418 | 14 |
| 19. | Charles Pic | Caterham F1 Team | 1:51.416 | 15 |
| 20. | Giedo van der Garde | Caterham F1 Team | 1:51.800 | 18 |
| 21. | Jules Bianchi | Marussia F1 Team | 1:52.221 | 17 |
| 22. | Max Chilton | Marussia F1 Team | 1:53.507 | 18 |