Red Bull's Sebastian Vettel again led the way in final practice this morning with a best time of 1m 48.327s, but he was only a tenth up on the Ferrari of Fernando Alonso and the bulk of the field was covered by just a second, with seven teams in the top ten.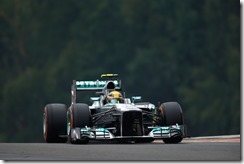 Amazing stuff – Hamilton has done it again for Mercedes. He takes his fourth successive pole.
Vettel will join him on the front row, ahead of Webber and Rosberg. Di Resta has to settle for P5, with Button sixth.
Lotus will be disappointed with seventh and eighth for Grosjean and Raikkonen, but not as disappointed as Ferrari – Alonso ninth, Massa tenth.
Pos.

Drivers

Teams

Time

Laps

01.
Lewis Hamilton
Mercedes AMG Petronas
2:01.012
22
02.
Sebastian Vettel
Red Bull Racing
2:01.200
19
03.
Mark Webber
Red Bull Racing
2:01.325
20
04.
Nico Rosberg
Mercedes AMG Petronas
2:02.251
20
05.
Paul di Resta
Sahara Force India
2:02.332
22
06.
Jenson Button
Vodafone McLaren Mercedes
2:03.075
21
07.
Romain Grosjean
Lotus F1
2:03.081
22
08.
Kimi Raikkonen
Lotus F1
2:03.390
22
09.
Fernando Alonso
Scuderia Ferrari
2:03.482
21
10.
Felipe Massa
Scuderia Ferrari
2:04.059
21
11.
Nico Hulkenberg
Sauber F1
1:49.088
17
12.
Adrian Sutil
Sahara Force India
1:49.103
17
13.
Sergio Perez
Vodafone McLaren Mercedes
1:49.304
16
14.
Giedo van der Garde
Caterham F1 Team
1:52.036
15
15.
Jules Bianchi
Marussia F1
1:52.563
16
16.
Max Chilton
Marussia F1
1:52.762
17
17.
Pastor Maldonado
Williams F1
2:03.072
10
18.
Jean-Eric Vergne
Scuderia Toro Rosso
2:03.300
10
19.
Daniel Ricciardo
Scuderia Toro Rosso
2:03.317
10
20.
Valtteri Bottas
Williams F1
2:03.432
10
21.
Esteban Gutiérrez
Sauber F1
2:04.324
10
22.
Charles Pic
Caterham F1 Team
2:07.384
8
Q1 107% Time:
2:10.393