After yet another three weeks summer break, the teams have reconvened in the Ardennes forest for one of the most historic races of them all.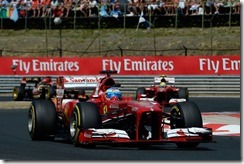 Spa, along with Silverstone, Monaco and Monza, was one of the tracks visited in the inaugural world championship season of 1950.
As for the 7.004-kilometre (4.352 mile) track, it's unchanged since last year, apart from improvements to some kerbs and the addition of some shallow drainage grooves on the start/finish straight.
However, there is an additional DRS zone for this year's race. The first remains on the Kemmel Straight, with detection midway down the hill into Eau Rouge, while the second is on the start-finish straight with detection just prior to the final chicane.
Pirelli have brought their orange-marked hard and white-marked medium compound tyres to Belgium – the two hardest compounds in their range. These should be ideal for dealing with the high-energy demands of the circuit and its very high-speed compressions such as the legendary Eau Rouge down and uphill swoop.
Full Belgian GP practice one results below:
| | | | | |
| --- | --- | --- | --- | --- |
| Pos. | Drivers | Teams | Time | Laps |
| 01. | Fernando Alonso | Scuderia Ferrari | 1:55.198 | 11 |
| 02. | Paul di Resta | Sahara Force India | 1:55.224 | 10 |
| 03. | Adrian Sutil | Sahara Force India | 1:55.373 | 11 |
| 04. | Sergio Perez | Vodafone McLaren Mercedes | 1:55.518 | 14 |
| 05. | Nico Rosberg | Mercedes AMG Petronas | 1:55.614 | 10 |
| 06. | Sebastian Vettel | Red Bull Racing | 1:55.636 | 14 |
| 07. | Esteban Gutiérrez | Sauber F1 | 1:55.954 | 18 |
| 08. | Nico Hulkenberg | Sauber F1 | 1:56.110 | 11 |
| 09. | Daniel Ricciardo | Scuderia Toro Rosso | 1:56.770 | 14 |
| 10. | Valtteri Bottas | Williams F1 | 1:56.858 | 18 |
| 11. | Felipe Massa | Scuderia Ferrari | 1:56.863 | 10 |
| 12. | Pastor Maldonado | Williams F1 | 1:57.081 | 14 |
| 13. | Jean-Eric Vergne | Scuderia Toro Rosso | 1:57.084 | 17 |
| 14. | Jenson Button | Vodafone McLaren Mercedes | 1:57.281 | 14 |
| 15. | Lewis Hamilton | Mercedes AMG Petronas | 1:57.358 | 10 |
| 16. | Heikki Kovalainen | Caterham F1 Team | 1:57.821 | 16 |
| 17. | Giedo van der Garde | Caterham F1 Team | 1:57.887 | 16 |
| 18. | Max Chilton | Marussia F1 | 1:58.600 | 14 |
| 19. | Mark Webber | Red Bull Racing | 1:58.929 | 12 |
| 20. | Jules Bianchi | Marussia F1 | 1:59.209 | 12 |
| 21. | Kimi Raikkonen | Lotus F1 | 1:59.441 | 11 |
| 22. | Romain Grosjean | Lotus F1 | 2:03.176 | 15 |