Nico Rosberg tops the time sheets once more this year after setting the fastest time in the first free practice of the British Grand Prix.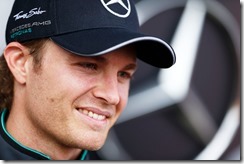 The German driver led the way in Friday morning's opening practice session for the 2014 Formula 1 British Grand Prix, lapping Silverstone track seven-tenths quicker than team mate and home favourite Lewis Hamilton.
For Williams Martini Racing the morning was a totally different story as Susie Wolff's practice debut was ended by oil pressure problems after just one flying lap, while team mate Felipe Massa crashed out just a few minutes later completely destroying his car.
| | | | | |
| --- | --- | --- | --- | --- |
| Pos. | Drivers | Teams | Time | Laps |
| 01. | 06 – Nico Rosberg | Mercedes AMG Petronas | 1:35.424 | 25 |
| 02. | 44 – Lewis Hamilton | Mercedes AMG Petronas | 1:36.155 | 22 |
| 03. | 14 – Fernando Alonso | Scuderia Ferrari | 1:36.354 | 23 |
| 04. | 03 – Daniel Ricciardo | Red Bull Racing | 1:36.623 | 21 |
| 05. | 07 – Kimi Raikkonen | Scuderia Ferrari | 1:36.703 | 23 |
| 06. | 01 – Sebastian Vettel | Red Bull Racing | 1:36.921 | 20 |
| 07. | 22 – Jenson Button | McLaren F1 | 1:36.963 | 25 |
| 08. | 26 – Daniil Kvyat | Scuderia Toro Rosso | 1:37.175 | 29 |
| 09. | 25 – Jean-Eric Vergne | Scuderia Toro Rosso | 1:37.227 | 25 |
| 10. | 20 – Kevin Magnussen | McLaren F1 | 1:37.231 | 30 |
| 11. | 11 – Sergio Perez | Sahara Force India | 1:37.720 | 22 |
| 12. | 08 – Romain Grosjean | Lotus F1 Team | 1:37.910 | 21 |
| 13. | 21 – Esteban Gutierrez | Sauber F1 Team | 1:38.056 | 18 |
| 14. | 34 – Daniel Juncadella | Sahara Force India | 1:38.083 | 23 |
| 15. | 36 – Giedo van der Garde | Sauber F1 Team | 1:38.328 | 19 |
| 16. | 17 – Jules Bianchi | Marussia F1 Team | 1:38.917 | 12 |
| 17. | 19 – Felipe Massa | Williams Martini Racing | 1:39.461 | 7 |
| 18. | 04 – Max Chilton | Marussia F1 Team | 1:39.814 | 24 |
| 19. | 09 – Marcus Ericsson | Caterham F1 Team | 1:40.597 | 19 |
| 20. | 46 – Robin Frijns | Caterham F1 Team | 1:42.261 | 11 |
| 21. | 41 – Susie Wolff | Williams Martini Racing | 1:44.212 | 4 |
| 22. | 13 – Pastor Maldonado | Lotus F1 Team | no time | 2 |