Nico Rosberg takes the pole for the British Grand Prix in a rain-affected qualifying which left Lewis Hamilton only sixth.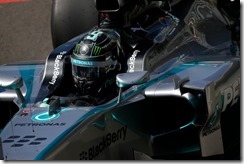 Hamilton the fastest with just seconds remaining as he decided to abort his final lap.
Red Bull's Sebastian Vettel took second ahead of McLaren's Jenson Button, Force India's Nico Hulkenberg and McLaren's Kevin Magnussen.
Both Williams and Ferraris failed to make it out of the first session after both teams waited a little to much to send their drivers out.
Mercedes executive director Paddy Lowe said Hamilton had decided to abort his final lap because he was down after the first two sectors which tuned out to be a big mistake because the last sector was drier and the drivers found huge time gains there.
Pos.

Drivers

Teams

Time

Laps

01.
06 – Nico Rosberg
Mercedes AMG Petronas
1:35.766
21
02.
01 – Sebastian Vettel
Red Bull Racing
1:37.386
19
03.
22 – Jenson Button
McLaren Mercedes
1:38.200
24
04.
27 – Nico Hulkenberg
Sahara Force India
1:38.329
19
05.
20 – Kevin Magnussen
McLaren Mercedes
1:38.417
23
06.
44 – Lewis Hamilton
Mercedes AMG Petronas
1:39.232
19
07.
11 – Sergio Perez
Sahara Force India
1:40.457
20
08.
03 – Daniel Ricciardo
Red Bull Racing
1:40.606
18
09.
26 – Daniil Kvyat
Scuderia Toro Rosso
1:40.707
21
10.
25 – Jean-Eric Vergne
Scuderia Toro Rosso
1:40.855
21
11.
08 – Romain Grosjean
Lotus F1 Team
1:38.496
17
12.
17 – Jules Bianchi
Marussia F1 Team
1:38.709
17
13.
04 – Max Chilton*
Red Bull Racing
1:39.800
14
14.
21 – Esteban Gutierrez**
Sauber F1 Team
1:40.912
16
15.
13 – Pastor Maldonado
Scuderia Toro Rosso
1:44.018
15
16.
99 – Adrian Sutil
Sauber F1 Team
No time
8
17.
77 – Valtteri Bottas
Williams Martini Racing
1:45.318
5
18.
19 – Felipe Massa
Williams Martini Racing
1:45.695
5
19.
14 – Fernando Alonso
Scuderia Ferrari
1:45.935
6
20.
07 – Kimi Raikkonen
Scuderia Ferrari
1:46.684
7
21.
10 – Kamui Kobayashi***
Caterham F1 Team
1:49.421
7
22.
09 – Marcus Ericsson***
Caterham F1 Team
1:49.625
8
Q1 107% Time: 1:47.406

* Chilton drops 5 for unscheduled gearbox change
** Gutierrez drops 10 places for unsafe release at previous round
*** Ericsson, Kobayashi fail to meet 107% requirement – tehy will race at stewards' discretion