The weather hit hard the first free practice of the British Grand Prix.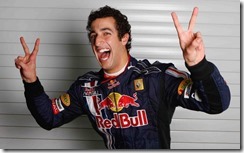 The rain continued to fall after the clock start running and very few cars ventured out on the track because there was a lot of standing water on it and all teams that brought in updates were afraid to run them because of the damp conditions.
With 45 minutes to go Daniel Ricciardo took his Toro Rosso for a spin but his example was not followed by any other team so with half of the session over no car have set a time.
James Rossiter also came to the Silverstone track for his first taste of the real thing after all the ours he spend into Force India simulator but the team decided not to let him run since he could learn nothing because of the bad weather.
Here are the British Grand Prix Practice 1 full results:
| | | | | |
| --- | --- | --- | --- | --- |
| Pos. | Drivers | Teams | Time | Laps |
| 01. | Daniel Ricciardo | Scuderia Toro Rosso | 1:54.249 | 10 |
| 02. | Nico Hulkenberg | Sauber F1 | 1:55.033 | 7 |
| 03. | Pastor Maldonado | Williams F1 | 1:55.354 | 7 |
| 04. | Lewis Hamilton | Mercedes AMG Petronas | 1:55.458 | 5 |
| 05. | Esteban Gutiérrez | Sauber F1 | 1:55.825 | 9 |
| 06. | Valtteri Bottas | Williams F1 | 1:56.361 | 7 |
| 07. | Jean-Eric Vergne | Scuderia Toro Rosso | 1:57.891 | 4 |
| 08. | Giedo van der Garde | Caterham F1 Team | 1:58.859 | 6 |
| 09. | Max Chilton | Marussia F1 | 1:59.719 | 7 |
| 10. | Jules Bianchi | Marussia F1 | 1:59.876 | 8 |
| 11. | Felipe Massa | Scuderia Ferrari | 2:06.534 | 6 |
| 12. | Sebastian Vettel | Red Bull Racing | no time | 4 |
| 13. | Mark Webber | Red Bull Racing | no time | 1 |
| 14. | Fernando Alonso | Scuderia Ferrari | no time | 4 |
| 15. | Jenson Button | Vodafone McLaren Mercedes | no time | 1 |
| 16. | Sergio Perez | Vodafone McLaren Mercedes | no time | 1 |
| 17. | Kimi Raikkonen | Lotus F1 | no time | 0 |
| 18. | Romain Grosjean | Lotus F1 | no time | 1 |
| 19. | Nico Rosberg | Mercedes AMG Petronas | no time | 3 |
| 20. | Paul di Resta | Sahara Force India | no time | 4 |
| 21. | Adrian Sutil | Sahara Force India | no time | 4 |
| 22. | Charles Pic | Caterham F1 Team | no time | 3 |