Nico Rosberg and Mercedes on top as Massa crashes on second free practice session at Silverstone.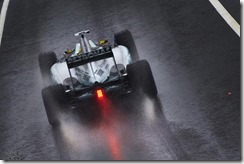 Rosberg recorded 1m 32.248s to slip ahead of Webber on 1m 32.547s and Vettel on 1m 32.680s, with local heroes Paul di Resta for Force India and Mercedes' Lewis Hamilton chasing them with 1m 32.832s and 1m 32.911s respectively.
The session was held on a drying track which was slippery to begin with, catching out Ferrari's Felipe Massa as he spun exiting Stowe corner after 25 minutes. He damaged the front suspension of his car as he slid across the road into a tyre wall, and was classified in 22nd and last place on the strength of his previous best lap of 1m 43.466s.
| | | | | |
| --- | --- | --- | --- | --- |
| Pos. | Drivers | Teams | Time | Laps |
| 01. | Nico Rosberg | Mercedes AMG Petronas | 1:32.248 | 33 |
| 02. | Mark Webber | Red Bull Racing | 1:32.547 | 26 |
| 03. | Sebastian Vettel | Red Bull Racing | 1:32.680 | 31 |
| 04. | Paul di Resta | Sahara Force India | 1:32.832 | 34 |
| 05. | Lewis Hamilton | Mercedes AMG Petronas | 1:32.911 | 28 |
| 06. | Daniel Ricciardo | Scuderia Toro Rosso | 1:33.171 | 34 |
| 07. | Jean-Eric Vergne | Scuderia Toro Rosso | 1:33.290 | 38 |
| 08. | Adrian Sutil | Sahara Force India | 1:33.313 | 34 |
| 09. | Romain Grosjean | Lotus F1 | 1:33.322 | 38 |
| 10. | Fernando Alonso | Scuderia Ferrari | 1:33.494 | 32 |
| 11. | Jenson Button | Vodafone McLaren Mercedes | 1:33.740 | 29 |
| 12. | Nico Hulkenberg | Sauber F1 | 1:33.896 | 36 |
| 13. | Kimi Raikkonen | Lotus F1 | 1:34.120 | 30 |
| 14. | Sergio Perez | Vodafone McLaren Mercedes | 1:34.130 | 29 |
| 15. | Esteban Gutiérrez | Sauber F1 | 1:34.998 | 32 |
| 16. | Valtteri Bottas | Williams F1 | 1:35.070 | 29 |
| 17. | Pastor Maldonado | Williams F1 | 1:35.127 | 35 |
| 18. | Jules Bianchi | Marussia F1 | 1:35.802 | 27 |
| 19. | Giedo van der Garde | Caterham F1 Team | 1:35.984 | 32 |
| 20. | Charles Pic | Caterham F1 Team | 1:36.079 | 35 |
| 21. | Max Chilton | Marussia F1 | 1:37.329 | 33 |
| 22. | Felipe Massa | Scuderia Ferrari | 1:43.466 | 7 |