Nico Rosberg hits the top as Felipe Massa is in trouble again in what was free practice three of the British Grand Prix.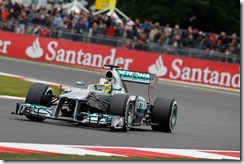 One short and busy practice session for all the teams just ahead of the qualifying session with both Mercedes cars looking good over one time lap and with Red Bull showing that is right there ready for pole position and victory.
The streak of bad luck of Felipe Massa continued in this session after his team found some problems with his engine and they decided that needs to be replaced, while Pirelli tyres made the spotlight once again when the left rear tyre of Sergio Perez exploded for no apparent reason causing a red flag.
Here are the free practice three results in full:
| | | | | |
| --- | --- | --- | --- | --- |
| Pos. | Drivers | Teams | Time | Laps |
| 01. | Nico Rosberg | Mercedes AMG Petronas | 1:31.487 | 18 |
| 02. | Lewis Hamilton | Mercedes AMG Petronas | 1:31.633 | 20 |
| 03. | Sebastian Vettel | Red Bull Racing | 1:32.037 | 20 |
| 04. | Mark Webber | Red Bull Racing | 1:32.078 | 17 |
| 05. | Romain Grosjean | Lotus F1 | 1:32.391 | 18 |
| 06. | Daniel Ricciardo | Scuderia Toro Rosso | 1:32.440 | 19 |
| 07. | Fernando Alonso | Scuderia Ferrari | 1:32.454 | 18 |
| 08. | Kimi Raikkonen | Lotus F1 | 1:32.459 | 22 |
| 09. | Adrian Sutil | Sahara Force India | 1:32.536 | 17 |
| 10. | Paul di Resta | Sahara Force India | 1:32.571 | 17 |
| 11. | Jean-Eric Vergne | Scuderia Toro Rosso | 1:32.580 | 15 |
| 12. | Jenson Button | Vodafone McLaren Mercedes | 1:32.926 | 18 |
| 13. | Pastor Maldonado | Williams F1 | 1:33.133 | 17 |
| 14. | Nico Hulkenberg | Sauber F1 | 1:33.225 | 16 |
| 15. | Felipe Massa | Scuderia Ferrari | 1:33.273 | 16 |
| 16. | Valtteri Bottas | Williams F1 | 1:33.309 | 25 |
| 17. | Esteban Gutiérrez | Sauber F1 | 1:33.370 | 19 |
| 18. | Sergio Perez | Vodafone McLaren Mercedes | 1:33.607 | 9 |
| 19. | Charles Pic | Caterham F1 Team | 1:34.971 | 18 |
| 20. | Jules Bianchi | Marussia F1 Team | 1:34.990 | 17 |
| 21. | Max Chilton | Marussia F1 Team | 1:36.694 | 16 |
| 22. | Giedo van der Garde | Caterham F1 Team | 1:37.443 | 18 |