Alonso outpaces the Mercedes duo in Montreal.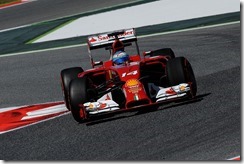 Ferrari's Fernando Alonso managed to surprise everyone by setting the pace ahead of the title-contending Mercedes in first practice of Canadian Grand Prix, he was 0.016 seconds ahead of Lewis Hamilton, who was 0.13secs ahead of team-mate Nico Rosberg.
Red Bull's Sebastian Vettel came fourth ahead of Williams' Valtteri Bottas, Red Bull's Daniel Ricciardo and McLaren's Jenson Button and Kevin Magnussen.
Mercedes are expected to be in a league of their own again at the Circuit Gilles Villeneuve thanks to the track's long straights which penalise the power deficit of the cars with the rival Renault and Ferrari engines.
| | | | | |
| --- | --- | --- | --- | --- |
| Pos. | Drivers | Teams | Time | Laps |
| 01. | 14 – Fernando Alonso | Scuderia Ferrari | 1:17.238 | 21 |
| 02. | 44 – Lewis Hamilton | Mercedes AMG Petronas | 1:17.254 | 25 |
| 03. | 06 – Nico Rosberg | Mercedes AMG Petronas | 1:17.384 | 32 |
| 04. | 01 – Sebastian Vettel | Red Bull Racing | 1:18.131 | 28 |
| 05. | 77 – Valtteri Bottas | Williams Martini Racing | 1:18.361 | 20 |
| 06. | 03 – Daniel Ricciardo | Red Bull Racing | 1:18.435 | 26 |
| 07. | 22 – Jenson Button | McLaren F1 | 1:18.446 | 33 |
| 08. | 20 – Kevin Magnussen | McLaren F1 | 1:18.514 | 31 |
| 09. | 07 – Kimi Raikkonen | Scuderia Ferrari | 1:18.578 | 15 |
| 10. | 25 – Jean-Eric Vergne | Scuderia Toro Rosso | 1:18.643 | 14 |
| 11. | 27 – Nico Hulkenberg | Sahara Force India | 1:18.733 | 30 |
| 12. | 11 – Sergio Perez | Sahara Force India | 1:18.959 | 22 |
| 13. | 99 – Adrian Sutil | Sauber F1 Team | 1:19.108 | 24 |
| 14. | 08 – Romain Grosjean | Lotus F1 Team | 1:19.142 | 32 |
| 15. | 26 – Daniil Kvyat | Scuderia Toro Rosso | 1:19.177 | 21 |
| 16. | 13 – Pastor Maldonado | Lotus F1 Team | 1:19.340 | 37 |
| 17. | 19 – Felipe Massa | Williams Martini Racing | 1:19.575 | 7 |
| 18. | 21 – Esteban Gutierrez | Sauber F1 Team | 1:19.804 | 15 |
| 19. | 17 – Jules Bianchi | Marussia F1 Team | 1:20.200 | 15 |
| 20. | 04 – Max Chilton | Marussia F1 Team | 1:20.844 | 26 |
| 21. | 09 – Marcus Ericsson | Caterham F1 Team | 1:21.404 | 33 |
| 22. | 45 – Alexander Rossi | Caterham F1 Team | 1:21.757 | 27 |
Image: Ferrari