Lewis Hamilton takes the pole for the Chinese Grand Prix.
With this result Lewis Hamilton becomes the best British qualifier in formula 1, surpassing Jim Clark's record of pole positions.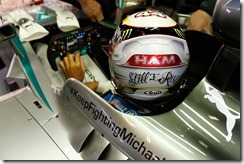 Hamilton went quickest in the first and third sectors as he posted a 1:53.860, over a second faster than Rosberg and ultimately far quicker than anything anyone would manage. Behind him Ricciardo was unable to get within half a second of Hamilton but, notably, out-qualified Vettel with a blistering final lap. Rosberg may well have locked out the front row with Hamilton but he ran wide at Turn 14 on his penultimate run, before spinning out of the final corner at the end of his last flying lap.
Fernando Alonso took fifth, keeping him well placed to build on his impressive practice form in the race, but team-mate Kimi Raikkonen was the highest profile casualty of Q2 as he could only manage to come home in 11th, with Jenson Button also failing to make it into the final qualifying session. Felipe Massa and Valtteri Bottas ended a trend of Williams struggling in the wet this season by qualifying sixth and seventh respectively, while Nico Hulkenberg could only manage eighth. Team-mate Sergio Perez, who claimed a podium in Bahrain, was another who failed to emerge from Q2.
| | | | | |
| --- | --- | --- | --- | --- |
| Pos. | Drivers | Teams | Time | Laps |
| 01. | 44 – Lewis Hamilton | Mercedes AMG Petronas | 1:53.860 | 21 |
| 02. | 03 – Daniel Ricciardo | Red Bull Racing | 1:54.455 | 23 |
| 03. | 01 – Sebastian Vettel | Red Bull Racing | 1:54.960 | 23 |
| 04. | 06 – Nico Rosberg | Mercedes AMG Petronas | 1:55.143 | 22 |
| 05. | 14 – Fernando Alonso | Scuderia Ferrari | 1:55.637 | 21 |
| 06. | 19 – Felipe Massa | Williams Martini Racing | 1:56.147 | 24 |
| 07. | 77 – Valtteri Bottas | Williams Martini Racing | 1:56.282 | 24 |
| 08. | 27 – Nico Hulkenberg | Sahara Force India | 1:56.366 | 23 |
| 09. | 25 – Jean-Eric Vergne | Scuderia Toro Rosso | 1:56.773 | 23 |
| 10. | 08 – Romain Grosjean | Lotus F1 Team | 1:57.079 | 22 |
| 11. | 07 – Kimi Raikkonen | Scuderia Ferrari | 1:56.860 | 17 |
| 12. | 22 – Jenson Button | McLaren Mercedes | 1:56.963 | 17 |
| 13. | 26 – Daniil Kvyat | Scuderia Toro Rosso | 1:57.289 | 18 |
| 14. | 99 – Adrian Sutil | Sauber F1 Team | 1:57.393 | 17 |
| 15. | 20 – Kevin Magnussen | McLaren Mercedes | 1:57.675 | 17 |
| 16. | 11 – Sergio Perez | Sahara Force India | 1:58.264 | 17 |
| 17. | 21 – Esteban Gutierrez | Sauber F1 Team | 1:58.988 | 10 |
| 18. | 10 – Kamui Kobayashi | Caterham F1 Team | 1:59.260 | 10 |
| 19. | 17 – Jules Bianchi | Marussia F1 Team | 1:59.326 | 10 |
| 20. | 09 – Marcus Ericsson | Caterham F1 Team | 2:00.646 | 10 |
| 21. | 04 – Max Chilton | Marussia F1 Team | 2:00.865 | 10 |
| 22. | 13 – Pastor Maldonado | Lotus F1 Team | no time | 0 |